ETO (ethylene oxide)
S
terilizer
Ethylene Oxide Sterilization Equipment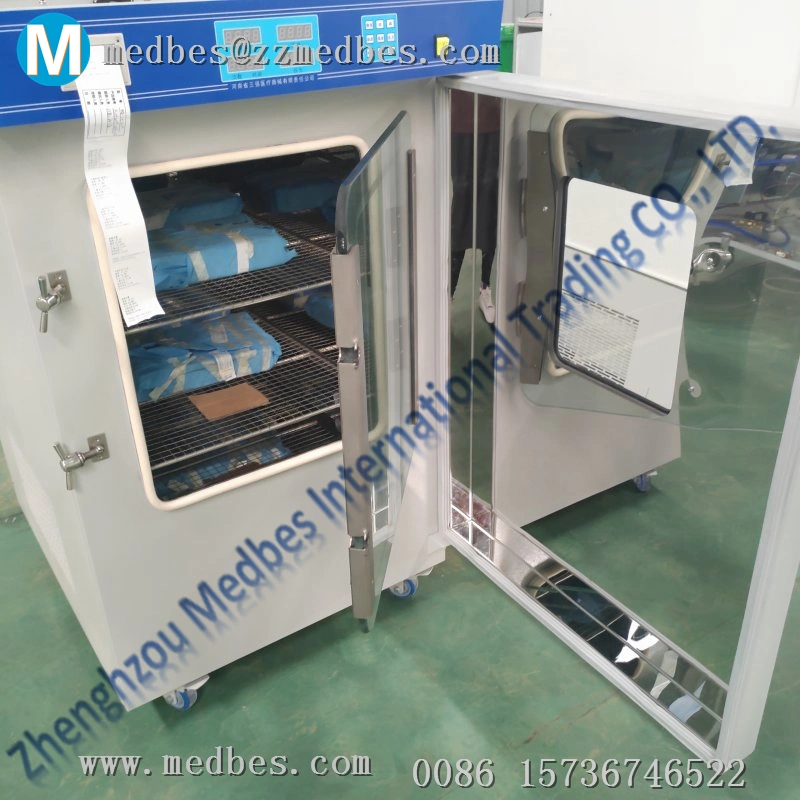 Parameters:
Product Type

Manual open door vertical

Heating method

electric heating

Temperature at sterilization

50 ºC ± 5 ºC

Work pressure

-60

K

pa

Highest anti-pressure value

-140kpa

Sterilizing humidity

45-75%

Selection of sterilizers

EO gas

Vacuum speed

5 minutes to -50pa

Chamber material

304 anti-corrosion type stainless steel

Carton material

Carbon steel(thickness1.8mm)baking powder

Operation height

≤ 160cm, the operation height is reduced, taking into account the convenience of woman's operation, more humane.
Power supply: 220V / 50Hz
Gas: Purity ethylene oxide gas
Ethylene oxide gas injection method: Interior with ethylene oxide gas tank, automatic impale method.
Sterilization time: 0-99 hours, adjustable
Vacuum speed: Absorb -60kpa in fifteen minutes
Air exchange: Automatic change air, three times one period, intervals of 30minutes.
Full automatic control system: One button to control from start to end and finish automatically with printing record.
Display condition: It shows temperature, humidity, pressure, sterilization time, residual gas handle time and frequency.
Printer: Print record for the sterilizing information of whole process, to prepare for verification.
Humidity sensor: Inner humidity sensor check chamber humidity automatically, ensure the chamber humidity is higher 45%RH.
Pressure sensor: Inner with pressure sensor to check chamber pressure automatically, ensure that the chamber pressure is accurate and effective.
Temperature sensor: Inner with temperature sensor to check chamber temperature automatically, ensure the chamber temperature within precise range of 50ºC ±3ºC.
Vacuum system: Adapting the oil free vacuum pump, simple and convenient, the vacuum speed is fast and the service life is long.
Heating system: Adapting to anti-explosion electric heating device, more convenient and fast.
Variety of protective function: It has over temperature protection function and residual gas automatic process system. more secure and reliable.
Wearing parts: Sealing gasket ring.
Automatic recovery function: regardless of power cut,outage, or the program disorder, it can determine the point of failure, the program can automatic recovery after power on and the device continue running.
Multiple protection functions: With over temperature protection function,more safe and reliable.
Air inlet : The air inlet is provided with a sterile filter,which can effectively filter out bacteria and microorganisms,and avoid the second time pollution when discharged.
Specifications:
Small Size:
Model
Volume
Chamber size
(L*W*H)
Carton size
(L*W*H)
Power
(kw)
Gross weight
(kg)

MSQ-H23

23L

SQM

-H80

80L

600*320*450mm

780*

6

20*1100mm

1.5

115

SQM

-H120

120L

60

0

*

4

0

0

*50

0mm

78

0

*

62

0

*11

50mm

2.8

160

SQM

-H220





220L

74

0

*

50

0

*

60

0mm

9

2

0

*

7

2

0

*

1

25

0mm

3.0

195

SQM

-H360

360L

830*600*730mm

1010*820*1380mm

3.6

280

SQM

-H460

460L

950*600*820mm

1140*800*1480mm

4.5

SQM

-H600

600L

980*680*910mm

1160*880*1560mm

5.3

SQM

-H800

800L

1100*730*1000mm

1300*950*1650mm

6.5
Bigger Size:
| | | | |
| --- | --- | --- | --- |
| Model | Volume | Chamber size(L*W*H) | Carton size(L*W*H) |
| M-ETO1000 | 1000L | 115*80*110cm | 140*160*170cm |
| M-ETO2000 | 2000L | 228*80*110cm | 255*160*170cm |
| M-ETO3000 | 3000L | 220*100*143cm | 245*170*205cm |
| M-ETO4000) | 4000L | 290*100*143cm | 315*170*205cm |
| M-ETO5000 | 5000L | 360*100*143cm | 385*170*205cm |
| M-ETO6000 | 6000L | 335*120*150cm | 355*175*205cm |