MEDICAL WASTE:A WORLDWIDE ISSUE
FOR PUBLIC HEALTH & ENVIRONMENT
Health care activities protect and save lives.But what about the waste and by-products that they generate?Biomedical waste management process can be expensive and difficult to set up for health care centers.An unsafe management can cause major issues:




Medical waste contains




potentially harmful




microorganisms which




could infect people






The World Health Organization




(WHO) estimates that 40%




of hepatitis cases and 2,5% of HIV




cases worldwide are caused




by occupational exposure




Treatment and disposal




of healthcare waste may




release pathogens and




toxic pollutants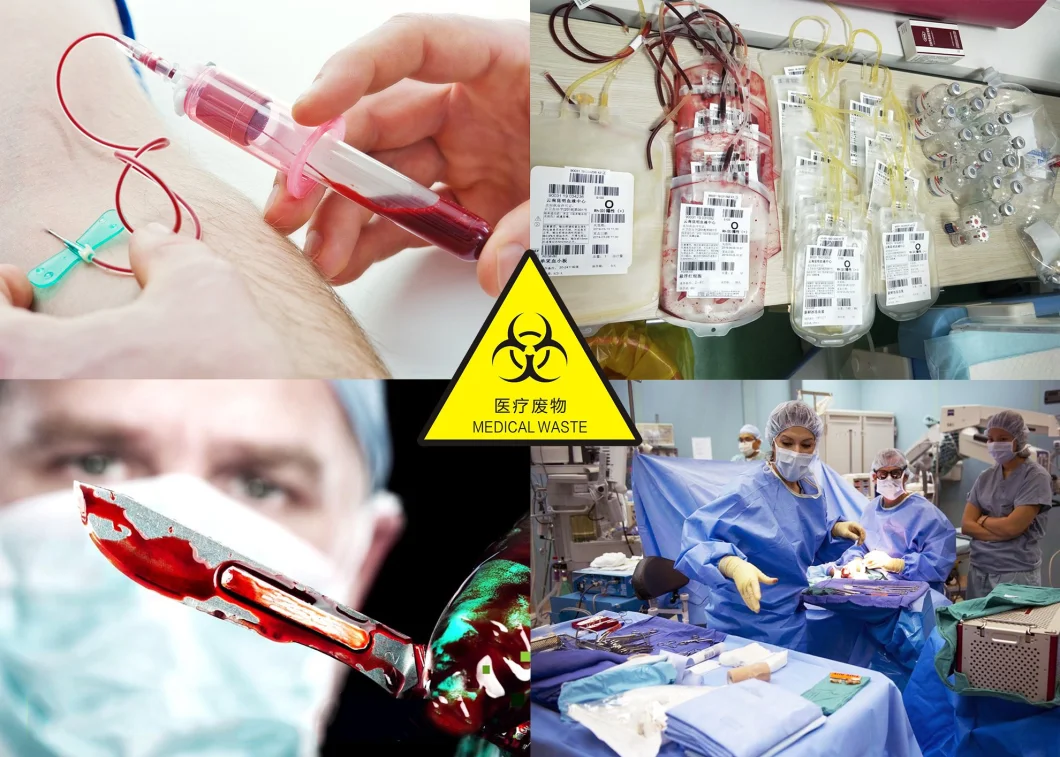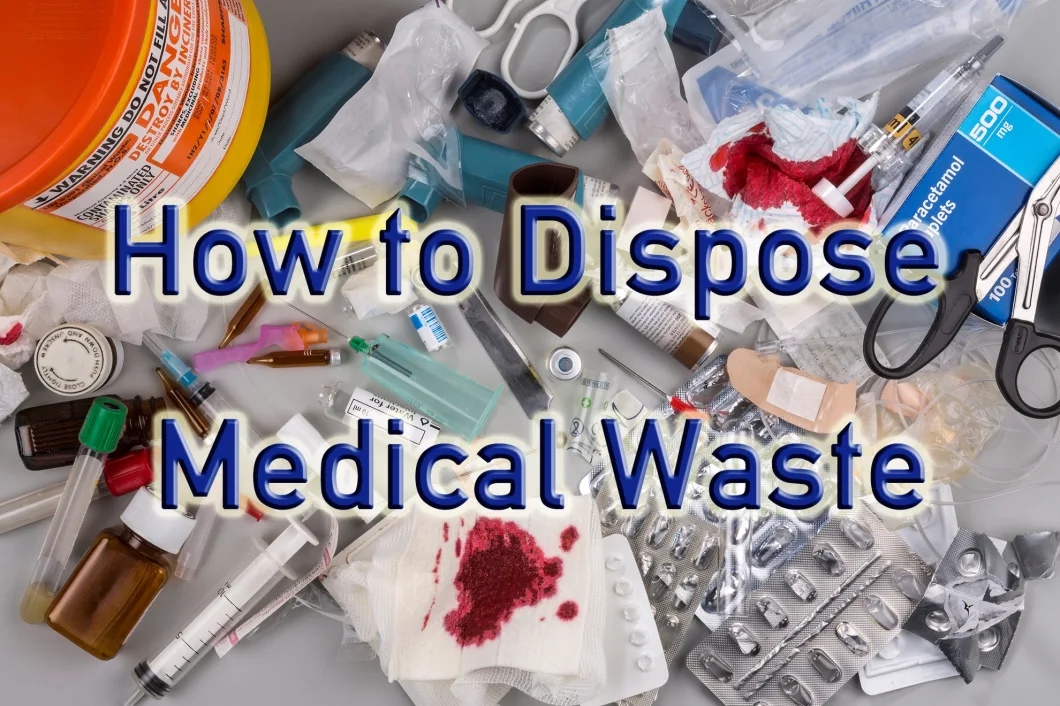 Medical waste treatment with microwave disinfection equipment can solve the problem of medical waste infecting humans and polluting the environment

Microwave disinfection technology principle
Microwave antivirus is the result of microwave thermal effect and biological effect, which can make microwave energy and bacteria directly interact, rapid sterilization.
1.The thermal effect of microwave energy:Under certain intensity microwave field, the bacteria will be due to the absorption of polarized molecules can increase the temperature of microwave, so that the protein deformation, loss of biological activity.The thermal effect of microwave mainly plays the role of rapid temperature sterilization.
2.Non-thermal effects of microwave energy:High frequency electric fields change the polarized molecular structure, resulting in the loss of vitality or death of proteins and physiologically active substances in the microbes, and the special effects of conventional physical sterilization.
Technical characteristics
Microwave disinfection technology uses a microwave sterilization time is short, fast, penetrating ability, inside and outside the temperature uniformity, saving energy, disinfection effect of good characteristics.
In the microwave field, the cell structure is destroyed, destroying the cell inside and outside the material balance, causing cell death.
The combination of microwave and water vapor makes the disinfection effect more effective.
Microwave disinfection does not produce dioxin and malodorous gases, no waste water.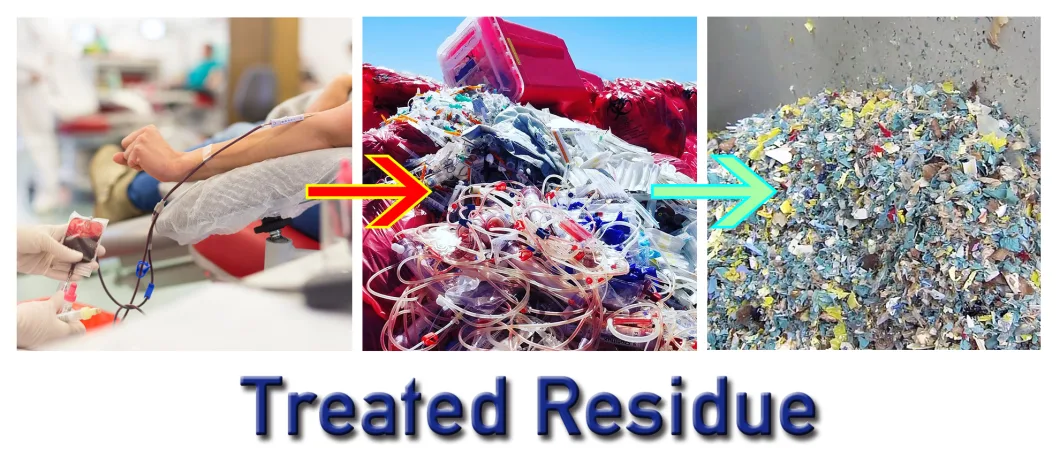 Compare technologies

LiYing Technology

Autoclave

Autoclave with a shedder

Incinerator

(microwave process)

(hot steam process)

(hot steam process)

(high-heat process)

Continuous process

✓

X

X

X

Integral shredding

✓

X

✓

X

Unrecognisable waste

✓

X

✓

✓

Volume of waste reduction

✓

X

✓

✓

Mass of waste reduction

✓

X

X

✓

Installation requirements

Low

High

High

High

Complexity of the installation

Low

Intermediate

Intermediate

High

Possibility of installation "in situ"

✓

✓

✓

X

Technology approval and recognition by countries all over the world

High

Intermediate

High

Low

Level of sterelization

High

Intermediate

High

High

Odours

Low

High

Intermediate

Intermediate

Level of noise

Low

Intermediate

Intermediate

High

Treatment of pathological and anatomical waste

✓

X

✓

✓

Cost

ROI

High

Low

Low

Low

Investment costs

Intermediate

Low

Intermediate

High

Operating costs

Low

High

High

High

Maintenance costs

Low

High

High

High

Labour costs

Low

High

High

High

Environment

Impact on the environment

No

Intermediate

Intermediate

High

Treated waste recyclable

✓

X

X

X

No contaminated rejection (such as water, steam)

✓

X

X

X

Security

No risk related to pressurized vessel

✓

X

X

X

Risk for workforce/personnel health (no risk of toxic contaminants released into the air or the treated waste)

No

Intermediate

Intermediate

High
| | |
| --- | --- |
| Dimensions | 7.9m lenght x2.9m widthx3.3m high |
| Weight | 12 tons |
| Treatment type | Pre-shredding with core-hearting microwave disinfection technology |
| Type of process | Automatic continuous process |
| Processing capacity | 150-200kg/hr |
| Emissions | Zero emission |
| Energy consumption | 115 kw ( 20° C at 1 atm ) |
| Effectivness | More than 6log10 disinfection |
| Required floor space | 10m x 3m ( 5 m height ) |
| Manpower requirements | No specialized operator / 1 operator |
| Assembly and start-up | One day assembly - start-up & training with our engineers |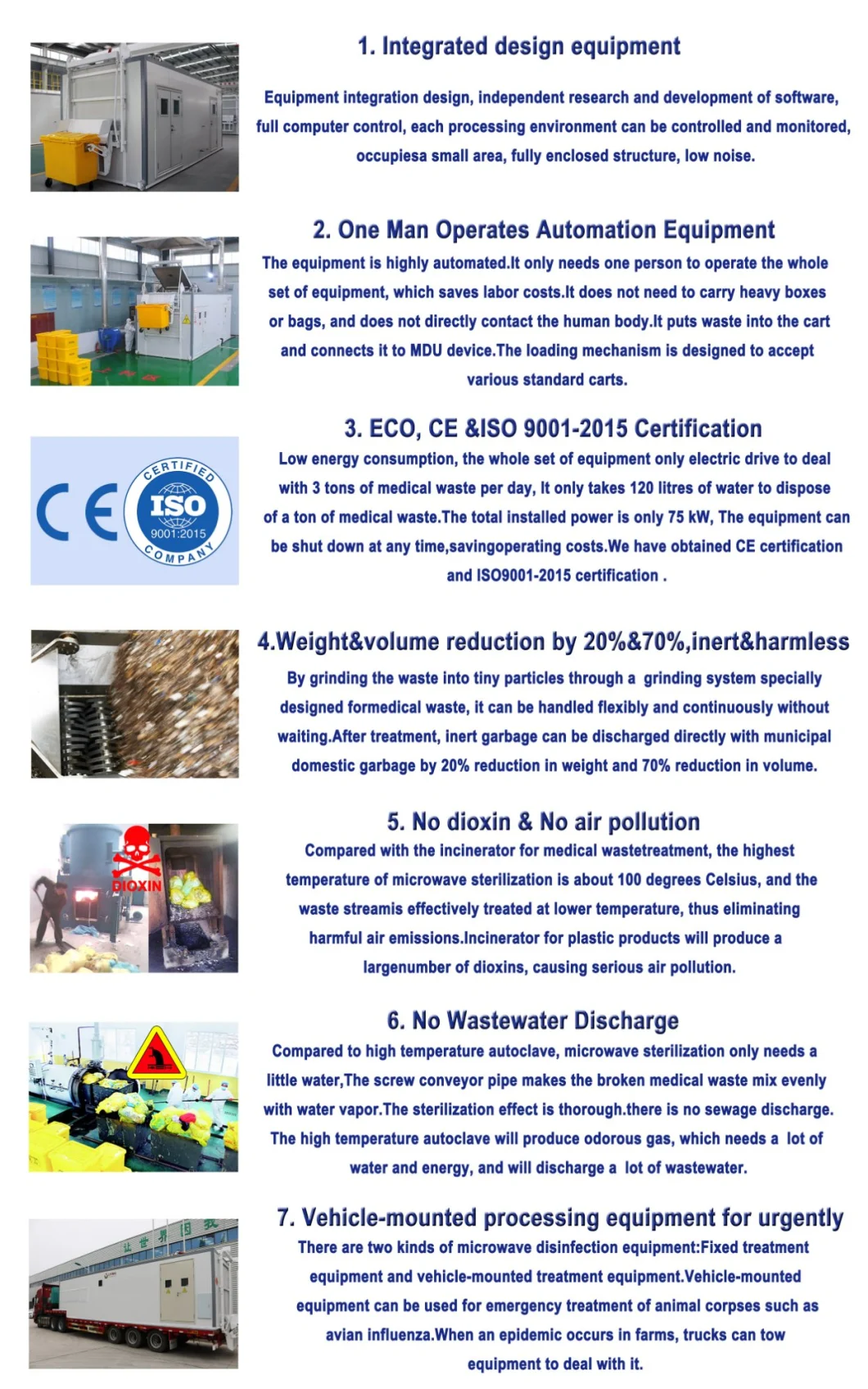 Solution adapted to:
1.Every medical waste producers
CLINICS&HOSPITALS RESEARCH LABORATORIES COMMERCIAL WASTE SERVICES

2.Any type of medical waste
Blood and Blood Products

Dialysis Waste

Animal Tissues, Body Parts, and Carcasses

Human Tissues, Body Parts, and Limbs

Biological and Non-Hazardous Pharmaceutical

Needles, Syringes, and other Sharps

Research Waste

Laboratory Specimens

Surgery Waste

Pathology and Histology Samples

Aids and Hepatitis Waste

Isolation Waste

Cultures and Slides

Intravenous Bags, Blood Bags, and Associated Tubing

Animal Bedding

Packaging Materials

Gloves, and Gowns Associated with Waste Collection

Trace Chemotherapy/anti-neo plastic waste
About Us
Henan Liying Environmental Science and Technology Co., Ltd.is a commitment to medical waste harmless treatment technology research and development, equipment production and project investment and operation of the specialized companies, is a state-level high-tech enterprises and the National Environmental Protection Association member units. Companies in the "professional, dedicated, specifically" attitude, "harmless treatment of medical waste, for the benefit of future generations" as the core value, market-oriented, healthy and environmentally friendly, resource recycling-oriented, committed to In the medical waste treatment technology research and development, equipment production, project investment operations.
The company is located in the civil rights county high-tech development zone, The company has a number of invention patents, utility model patents and software copyright, research and development of microwave sterilization, carbonization pyrolysis and other medical waste disposal technology in the international leading level, through the GB / TI9001 international quality management system certification, CE certification by SGS, and has won the international Trade platform designated enterprise authorization certificate, scientific and technological achievements appraisal certificate, science and technology SME certificate, China 's environmental protection industry sustainable development key promotion project certificate. Investment, construction, operation or cooperation of municipal (county) medical waste disposal center in Shandong, Qingdao, Shijiazhuang, Hebei, Lankao, Luyi, Changyuan, Jiangxi Yingtan, Guizhou Zhenfeng, Pu'an, Sands, Yunnan Tengchong and Fengqing Project experience, the successful solution to Shandong Heze, Qingdao, Liaocheng, Hunan Changde City, Jiangxi Ji'an City, Jiangsu Qidong City, Guizhou Anshun City and other medical waste emergency treatment problems. Production of equipment exported to the United States, Britain, Brazil, India, Japan, Russia and other countries.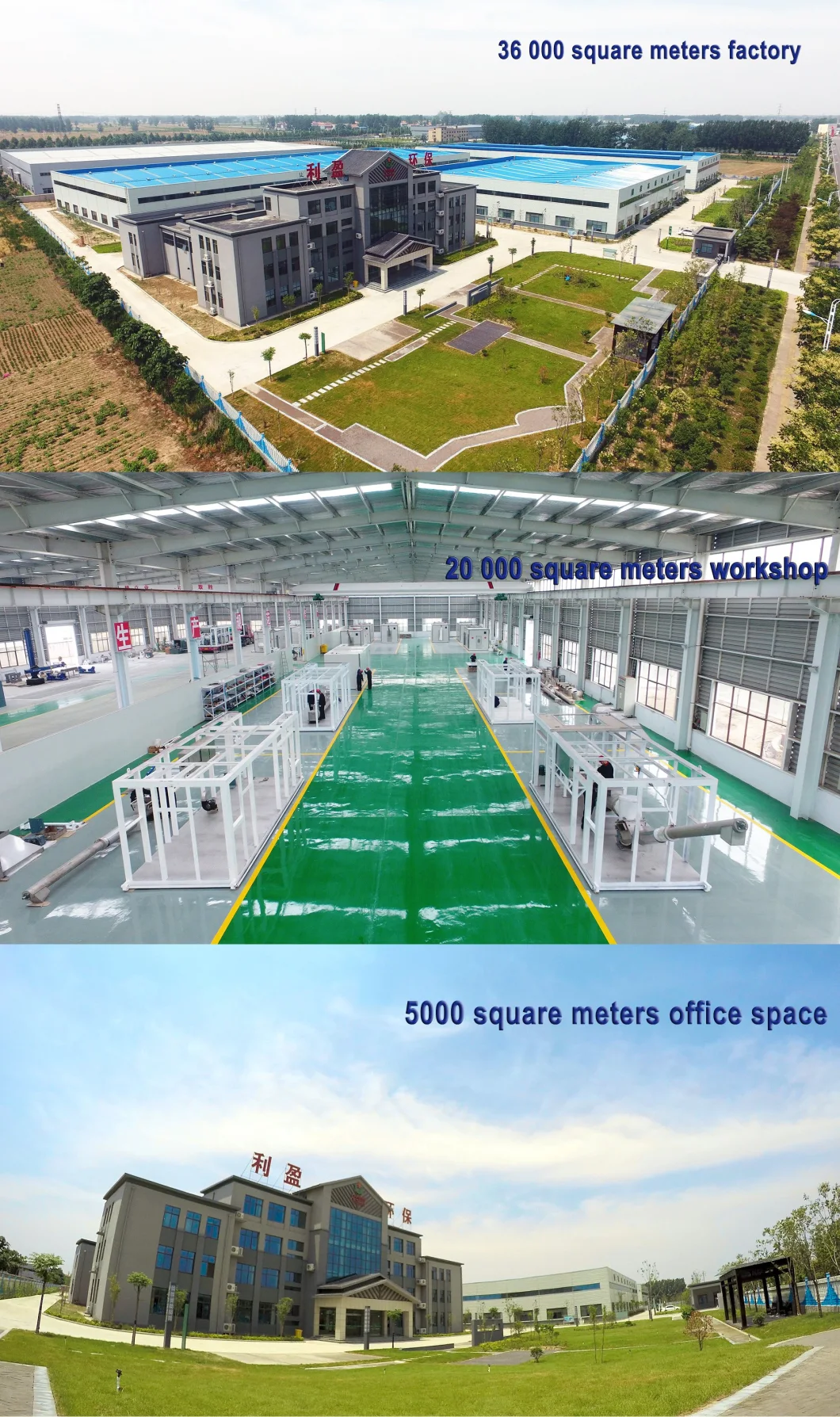 Shipment photos for the past six months