2020 UV Sterilizer Lamp Portable UVC Germicidal Wand Handheld Ultraviolet Sterilizer Lamp Household Germicidal Sterilization
Product features
1.-Suitable for home, office business trip, travel, trip, easy to carry and use.
2.-Use UV rays to remove bacteria covering household products.
3.-Clean bedrooms, closets and household items. Avoid being covered by bacteria.
4.-Lightweight clamshell design saves space and can be disinfected at any time.
5.-Simple operation, disinfection can be performed with the push of a button.
6.-Built-in automatic safety switch. When the tube of the rod-shaped germicidal lamp is facing upward in the working state, the ultraviolet lamp will be automatically turned off. To get back to work, just turn the light bulb on the sterilizer stick down.
7.-Can be powered via USB connection (cannot be charged), and also supports 4 AA batteries (excluding batteries).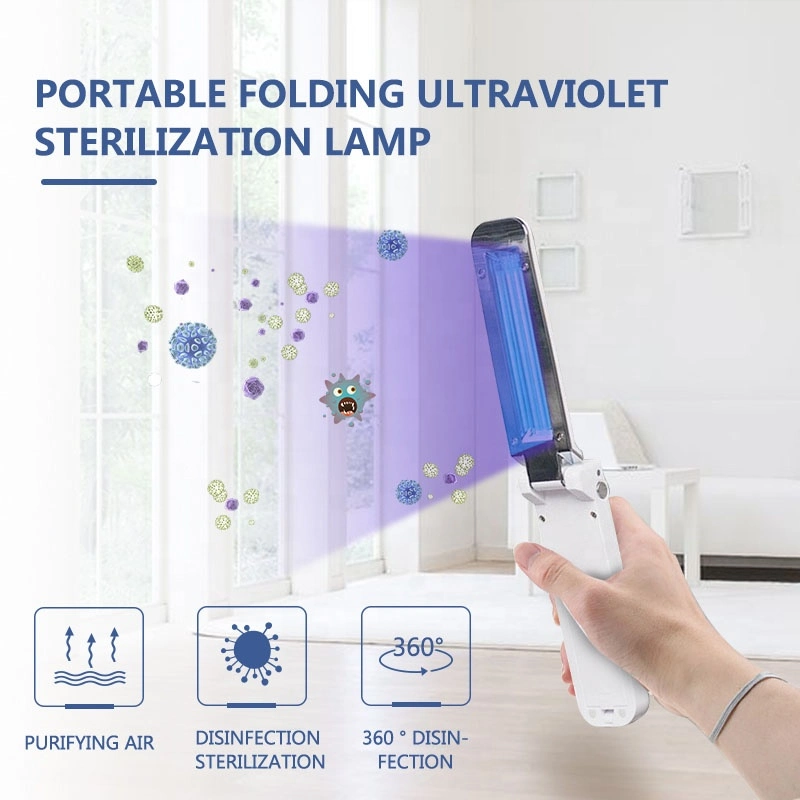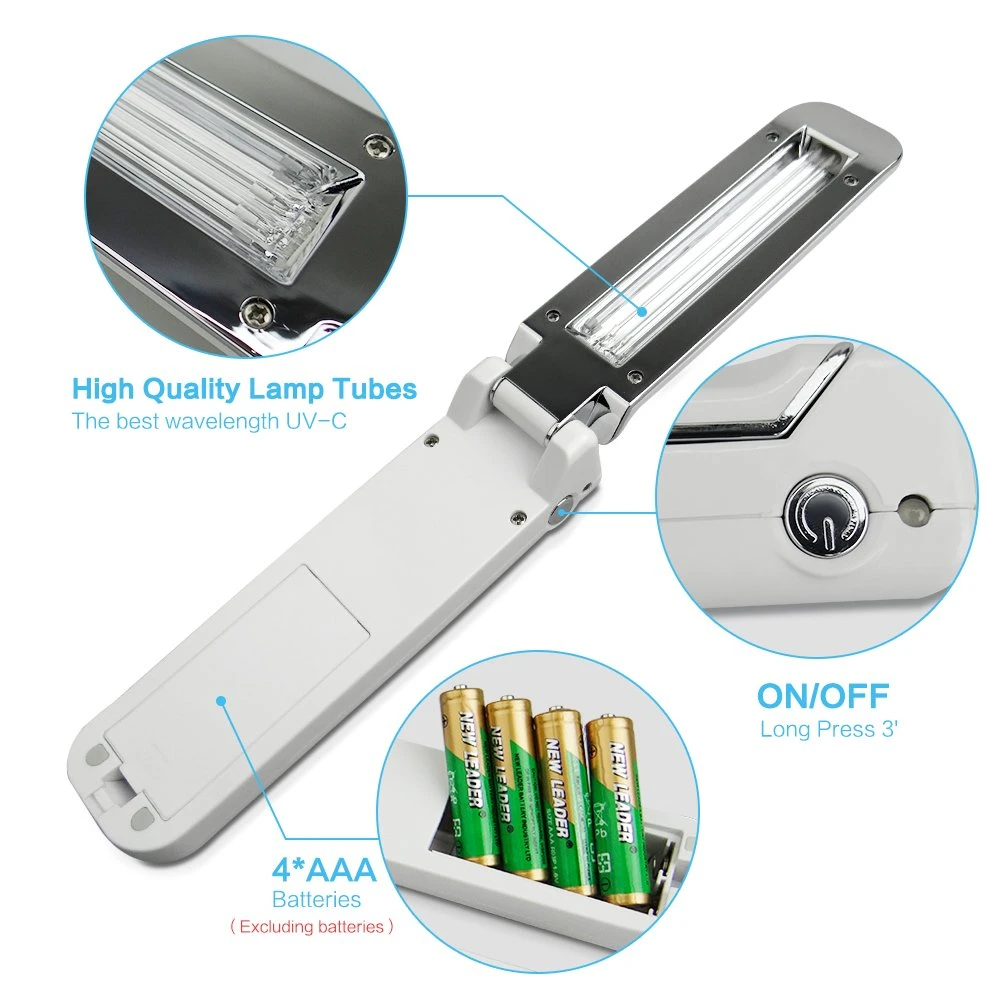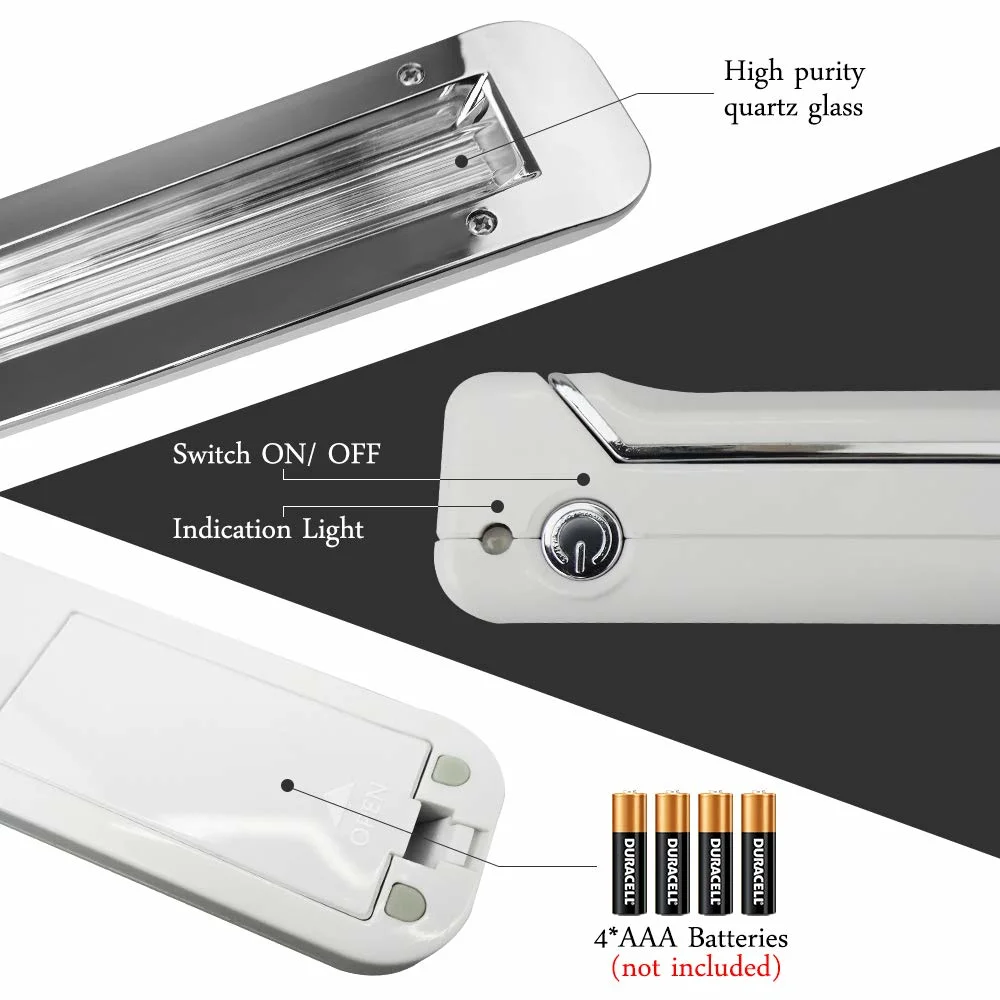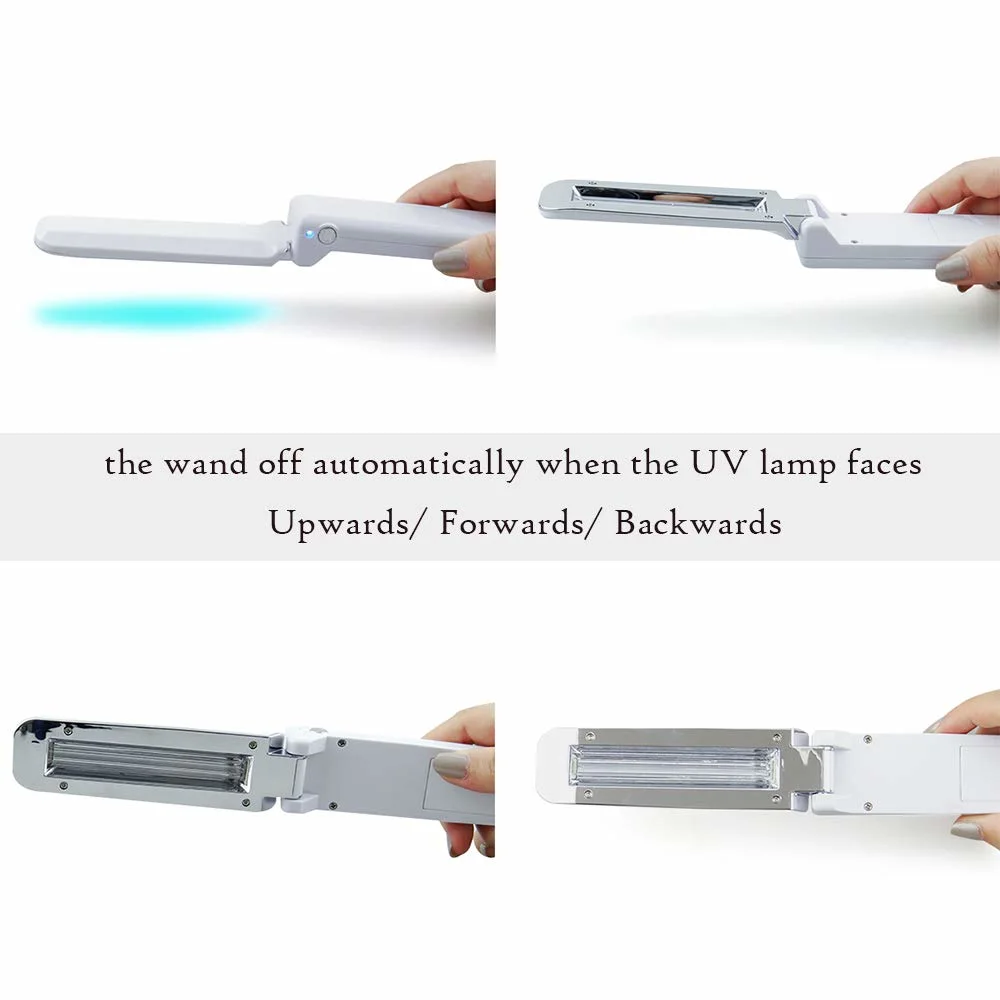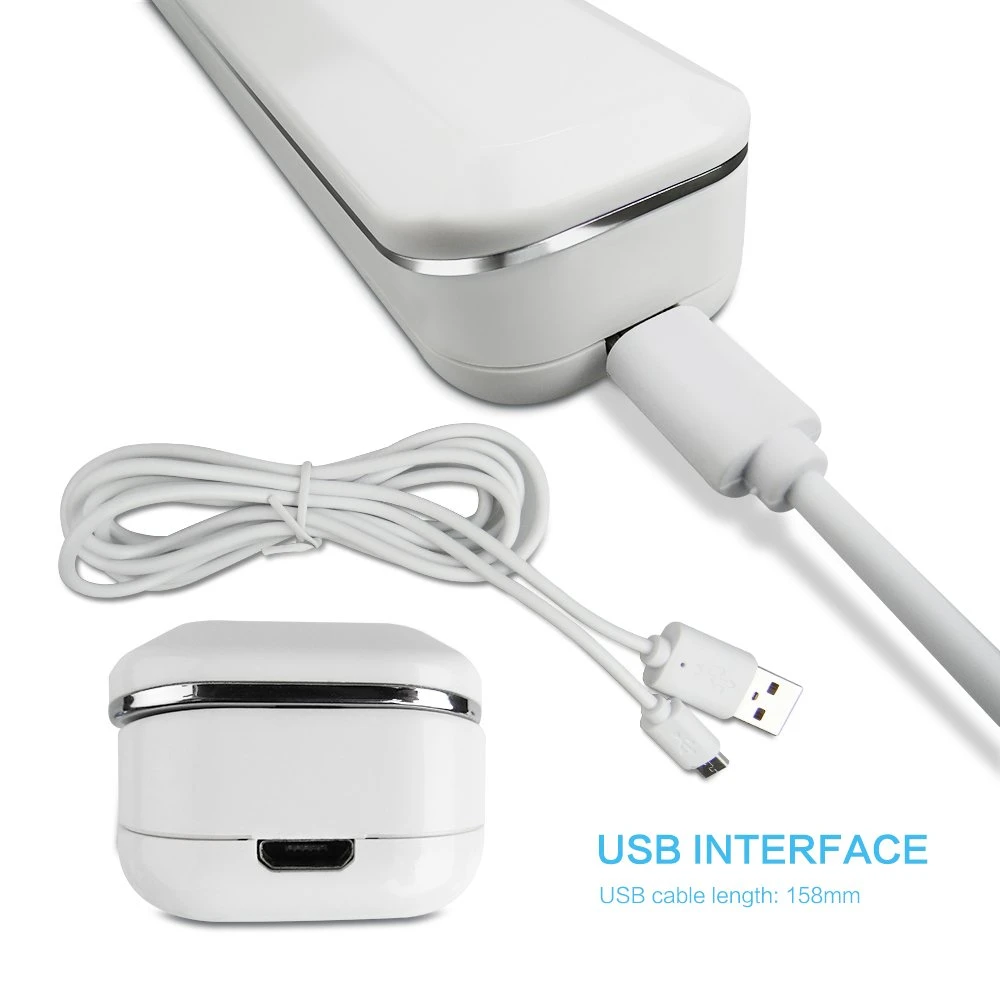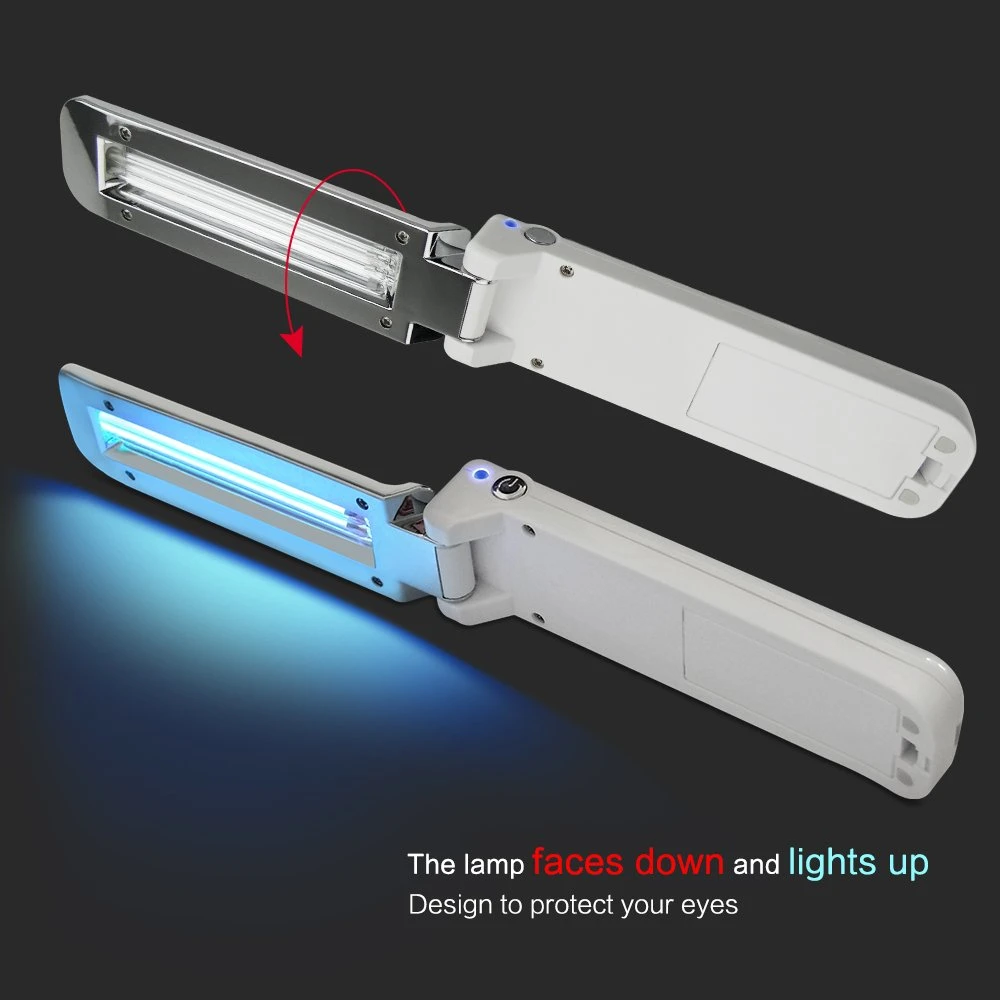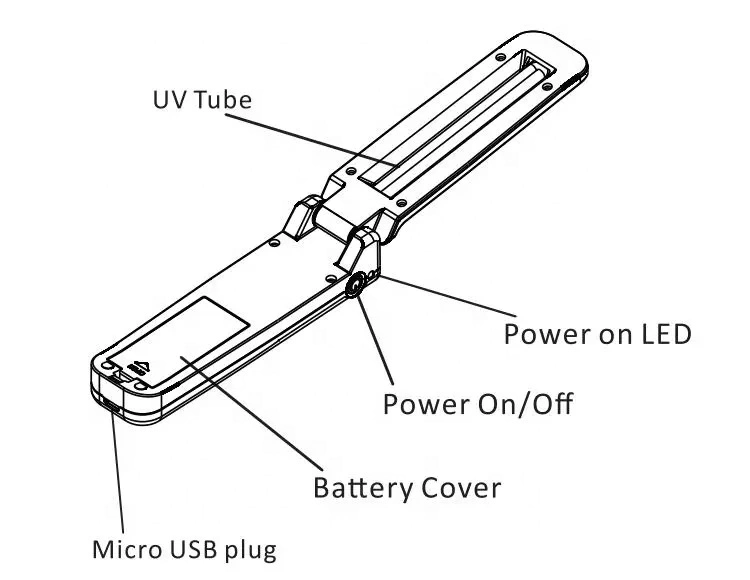 Specification:
| | |
| --- | --- |
| Item name | Portable UV Disinfection Lamp Sterilizer Germicidal Ultraviolet Light |
| UV-C tube | 2 W |
| UV wavelength | UV-C (253.7nm) |
| Input voltage | USB 5V |
| Current capacity | 400mA |
| Current | 450mA |
| Irradiation intensity | > 2500uw / cm2 |
| Use Time | >20000hours |
| Charging type | USB charging |
| Operating Temperature | 20-50ºC |
| Materials | ABS |
| Dimension (mm) | L125 x W35 x H25 mm |
| Net Weight | 150g |
| Application area | UVC Germicidal Disinfection Suitable for home, office business trip, travel, trip |
Features
• Suitable for households,travel, business,healthcare industries.It's easy to bring and use.
• Ultraviolet (UV-C) light help to eliminate bacteria, viruses, fungus, molds, etc on the surfaces of most household and personal items.Remove odors, bacteria, and dust motes which cause splenitis, pneumonia,asthma,and allegies.
• Maintenance room, closet, and to put around the house supplies of clean living.To avoid being covered by bacteria.
• Portable clamshell design:space saving,to sterilize in the required area at any time.
• Simple operation easy to press ON/OFF button.
• With a protection (safety switch), it will automatically turn the UV-C light off if the device is turned upward.
• Products used in daily life,chopsticks,spoons,dishes,telephone handsets,desk,toilets,public places,automobile,etc,free from harmful bacterial pathogens.Keeping your rooms,closets and household appliances in a "Germ Free" antiseptic environment.
• Powered either by Micro USB cable or by 4x 1.5V AAA batteries.It's safe and energy-saving.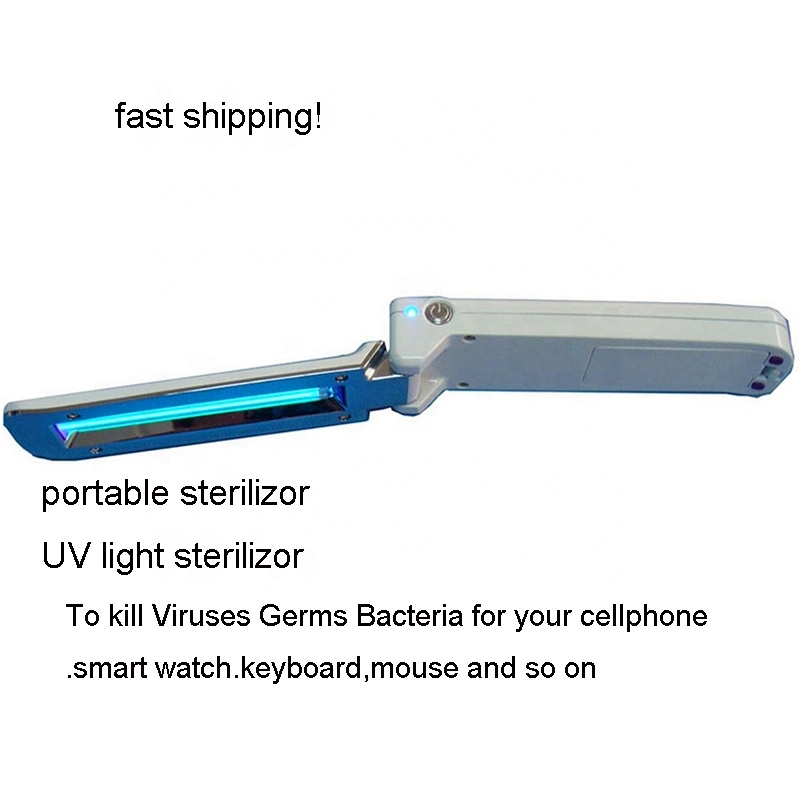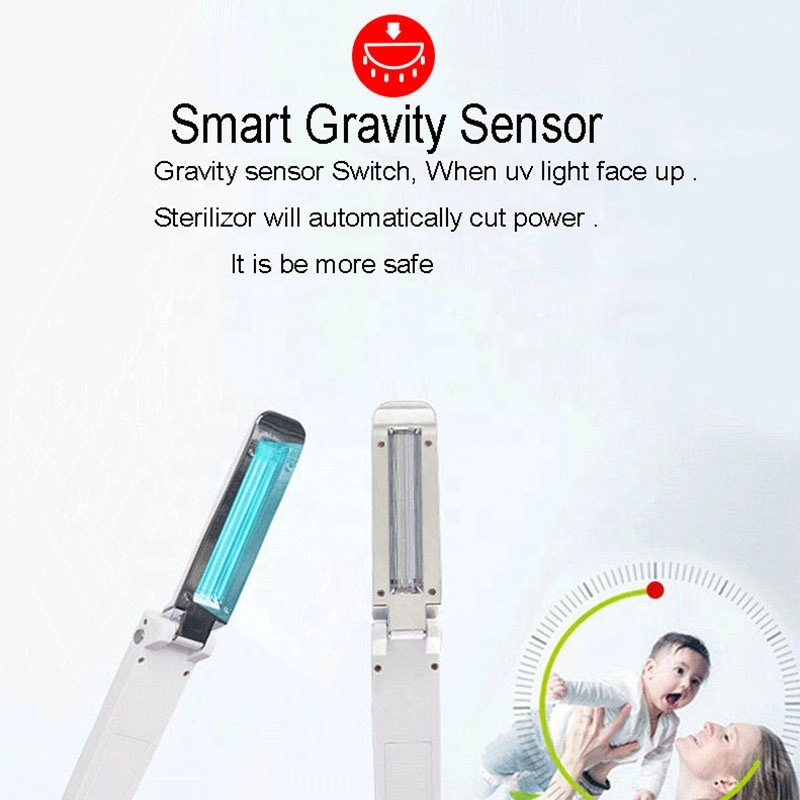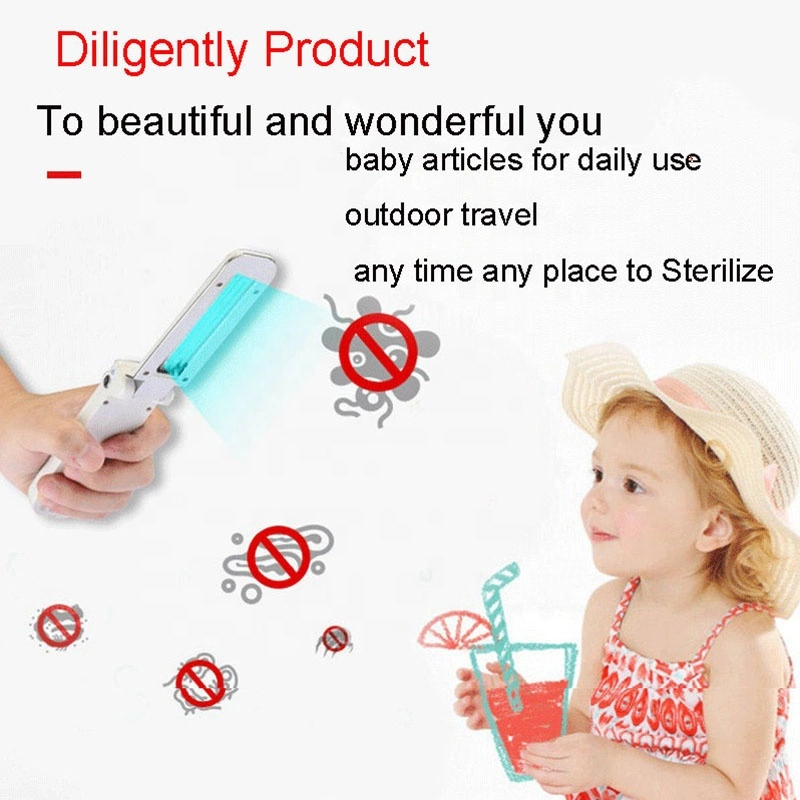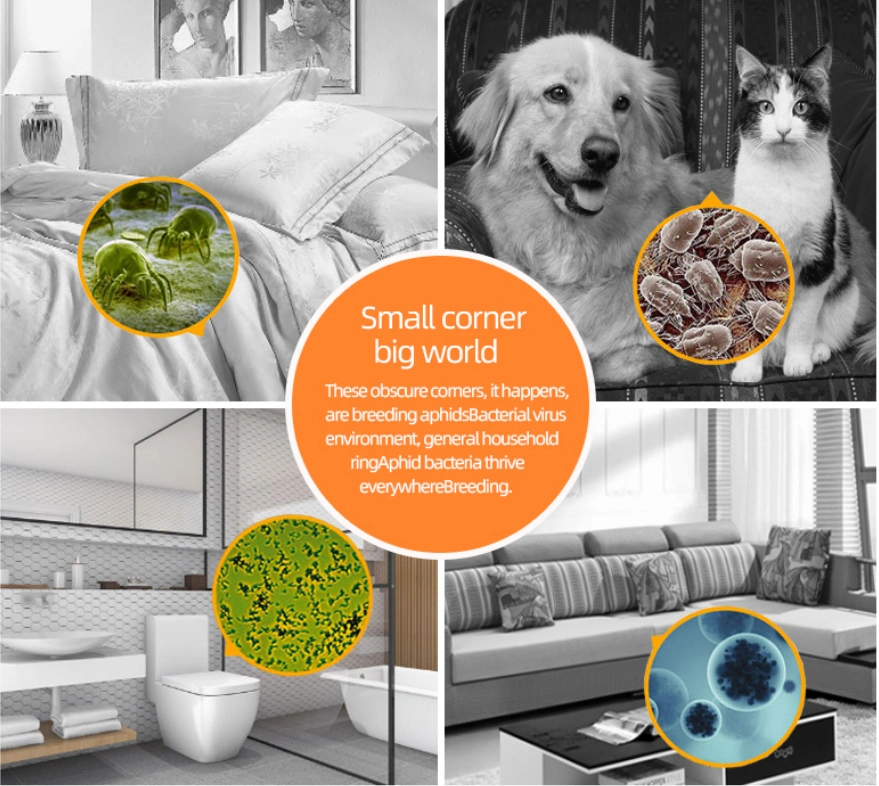 It can kill all kinds of bacteria and viruses in a very short time. Can be for mobile
phone, mask, computer keyboard, accessories, finger rings, necklace, brush, plush
toys, baby and mother products, nursing bottle, clothing, underwear, bags, travels, and
any articles that required sterilization


2. Operation Steps

1, According to "+/-"instruction, please put 4pcs "AAA" batteries into the product.
2, Long press the switch for 3 seconds, then the UV lamp will be bright. (The lamp is
light only when it is towards down. But it is off when the UV lamp is facing up.)
3, Make the UV lamp towards at the sterilization items, keep the vertical distance at
3cm-5cm, move slowly back and forth for 30 seconds. The longer the time, the
better the sterilization effect.
4, Power source: Common battery/Rechargeable battery/USB cable
3, Technical Specifications
Battery: 4pcs*1.5V "AAA"/USB port
1,Do not make the UV products towards eyes and bodies directly.
2,Please keep the products away from children.
3,When the battery is low, please change it in time.
4,Keep the lamp clean to avoid soaking in water. Do not crush the lamp
5,This product could help to prevent Corona-virus!
It has been scientifically proven that UV Light disinfectant kills 99.9% of germs, bacteria and viruses within seconds.The quartz glass lamp tube has a high permeability, which ensures a higher sterilization efficiency.

The light will never turn on if it is point towards you or right, left or in front. So please do not assume that the product is faulty.

Our UV sanitizer could be powered on by battery or USB charger(4*AAA batteries were not included). Press the on/ off button 3 seconds, and when the indicator light turns blue, you can use it to scan wherever you want to be sanitized.

Compact size: 12.5*3.5*2.5cm. Weight:65g. Battery power and USB power. Portable to carry,enjoy your job, your rest, ensure you have a trip in a clean environment.

You can use it to scan any contaminated surface, kill germs on laptops, toys, toothbrushes, door handles, toilet covers, cups at home and in the office. When on the go, it can also get rid of bacteria, fungi, molds and viruses in the hotel and outdoors.
FAQ

Q1. Can I have a sample order for ultraviolet light?
A: Yes, we welcome sample order to test and check quality. Mixed samples are acceptable.
For free Disposable face mark, pls connect us.
If you need Disposable fack mark also can connect us.