Type

Matched uv lamp(W)

size(mm)L*D*H

casing (stainless steel)

Flow rate (GPM)

Inlet&outlet

Lifetime

(hours)

Temperature of water

UV-4W
4W*1
200*51*51
304#
0.3GPM
68L/H
1/4" BSP Female
9000
8 bar
UV-10W
10W*1
236*51*51
304#
0.5GPM
114L/H
1/4" BSP Female
9000
8 bar
UV-12W
12W*1
300*51*51
304#
1GPM
228L/H
1/4" BSP Female
9000
8 bar
UV-16W
16W*1
330*63*63
304#
2GPM
0.5T/H
1/2" BSP Male
9000
8 bar
UV-25W
25W*1
550*63*63
304#
6GPM
1.5T/H
1/2" BSP Male
9000
8 bar
UV-40W
40W*1
869*63*63
304#
8GPM
2T/H
3/4" BSP Male
9000
8 bar
UV-55W
55W*1
910*63*63
304#
12GPM
3T/H
3/4" BSP Male
9000
8 bar

UV-110W

55W*2

910*110*110

304#

24GPM
5.4T/H

1" BSP Male

9000

8 bar

UV-165W

55W*3

910*135*135

304#

36GPM




8.5T/H

1.5" BSP Male

9000

8 bar

UV-220W

55W*4

910*135*135

304#

48GPM




10T/H

1.5" BSP Male

9000

8 bar

UV-320W
80W*4
910*159*380
304#
72GPM
16T/H
DN65
9000
8 bar
UV-400W
80W*5
910*159*380
304#
96GPM
24T/H
DN80
9000
8 bar
UV-480W
80W*6
910*219*550
304#
144GPM
32T/H
DN100
9000
8 bar
UV-560W
80W*7
910*219*550
304#
40T/H
DN100
9000
8 bar
UV-640W
80W*8
910*219*550
304#
50T/H
DN125
9000
8 bar
UV-720W
120W*6
1220*219*550
304#
60T/H
DN125
9000
8 bar
UV-840W
120W*7
1220*273*600
304#
80T/H
DN150
9000
8 bar
UV-960W
120W*8
1220*273*600
304#
100T/H
DN150
9000
8 bar
110W 24GPM Water UV Sterilizer system for drinking milk fruit juice treatment purification with timer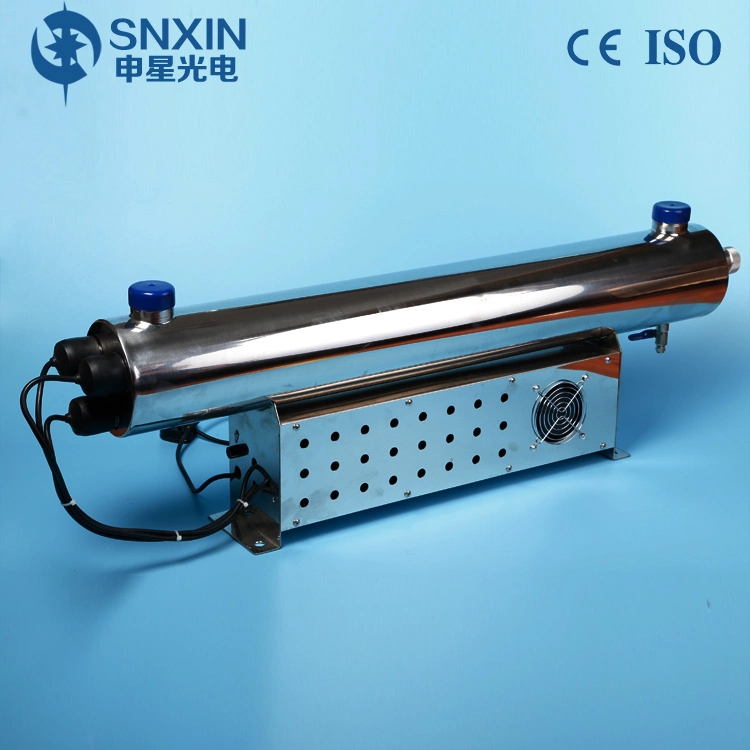 | | |
| --- | --- |
| Item | 110W UV Sterilizer |
| Lamp Power | 55W*2 |
| Flow rate | 24GPM 5.4T/H |
| Inlet&Outlet | 1" BSP Male |
| Material | 304SS |
| Certification | CE , ISO9001:2000, RoHS,SASO |
| Size | 910*110*110mm |
| Lamp life | 9000 hours |
| Temperature of water | 8 bar |
| Weight | 15kg |
| Warranty | 1 Year |
Application area
SNXIN

UV sterilizers

are commonly seen in various

water treatment

systems:
a) Residential

water purification, to bring health and safety to our daily life;
b) Industrial

water sterilization, to supply treated water for different needs, such as clean water for irrigation and fish tank, cooling water for production;
c) Waste water reuse, to avoid sewage pollution and increase utilization of water, and make the earth a better place for our children.
*Note: UV radiation can cause harm to human skin and eyes. Please pay attention when using.
Working Environment
Production process of stainless steel case
1. Laser cutting
2. Press and stretch
3. Soak cleaning and ultrasonic cleaning
4. Welding and assembling
5. Burnish
6. Pickling and passivation
7. Electrolytic
8. Pressure testing
9. Wash and dry
10. Quality inspection
11. Packaging and warehousing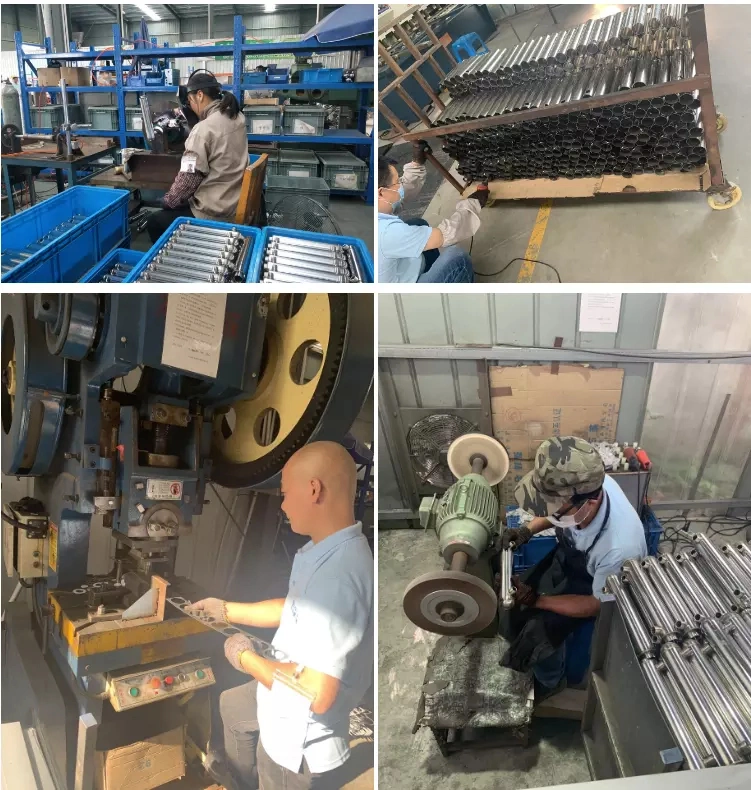 Packaging & Shipping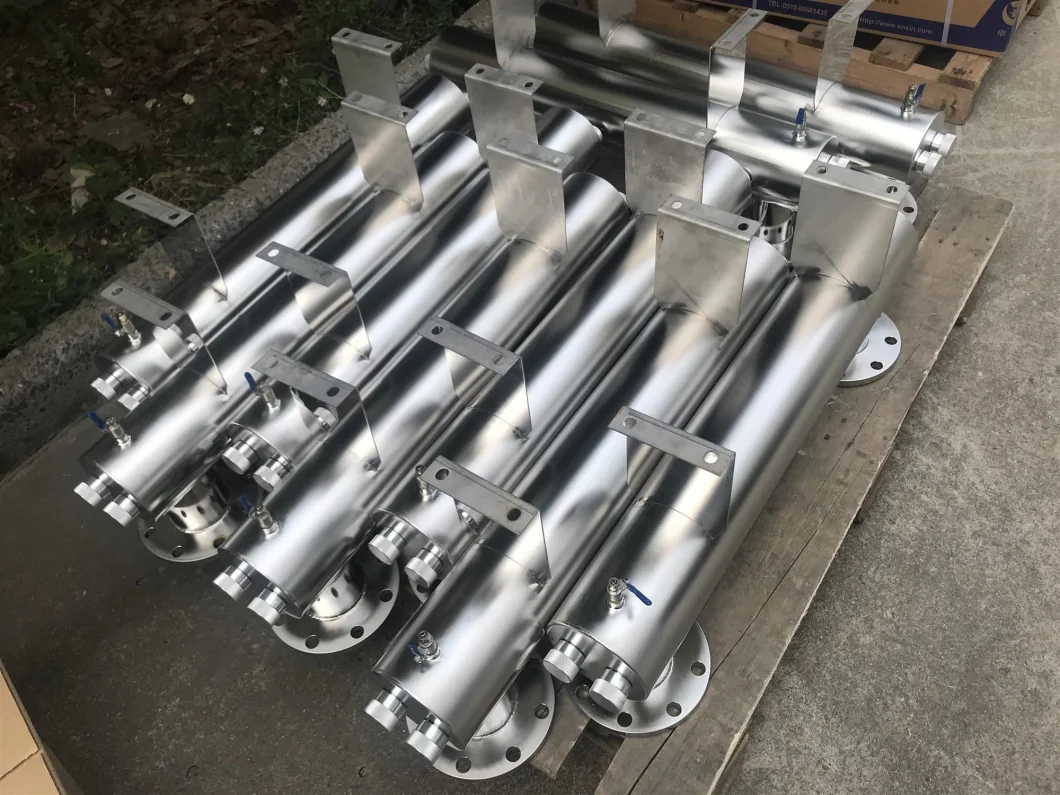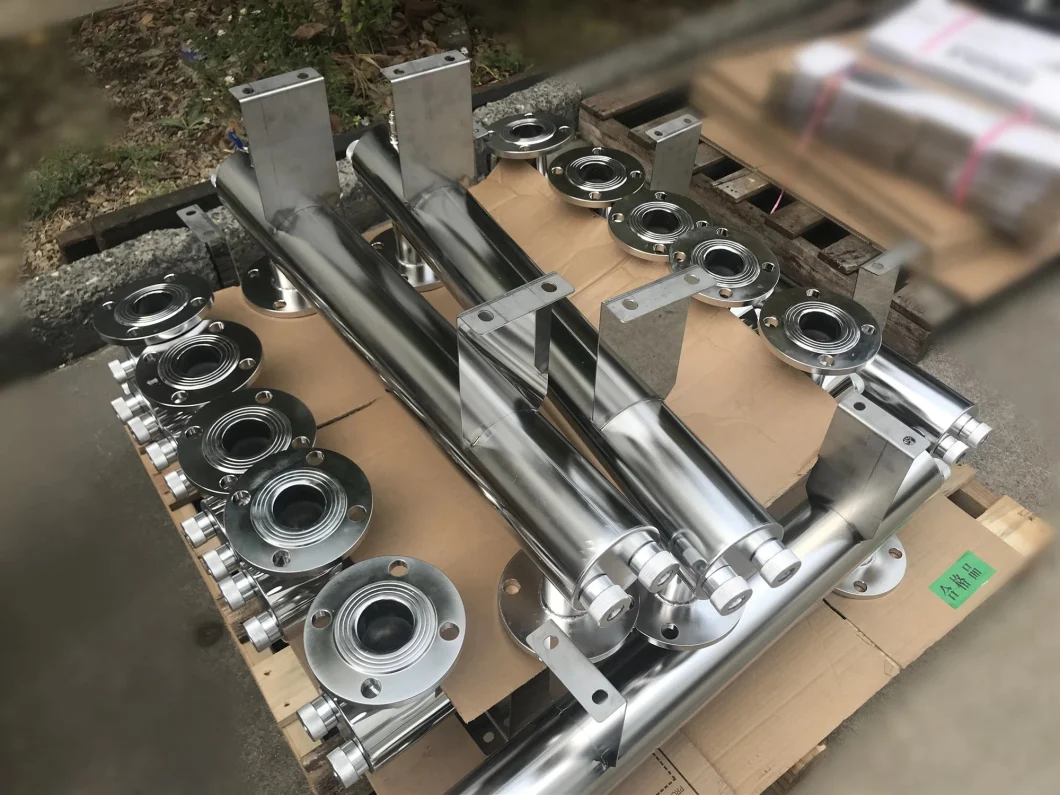 Certifications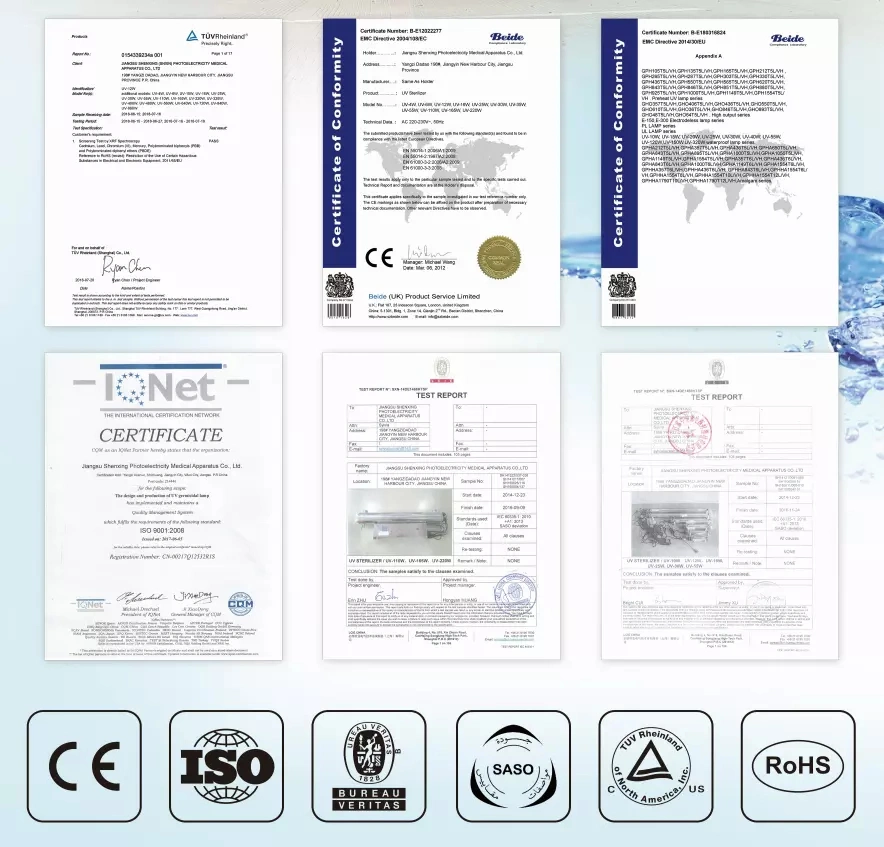 Our Services
1.Geting free test sample.
2.Getting spare lamp and sleeve for free.
4.Security Deposit Return Guarantee.
5.On-time Delivery Guarantee. In the execution of the contract,if we delay the delivery date,we will make corresponding compensation measures. Details are as follows:
a. The delivery time is delayed by 7 days, can compensate for 1% of the amount of goods.
b. The delivery time is delayed by 15 days, can compensate for 2% of the amount of goods.
c. The delivery time is delayed by 30 days, can compensate for 4% of the amount of goods.
6.You can return back the goods within 30 days if customer are not satosfied with the quality.
Company Information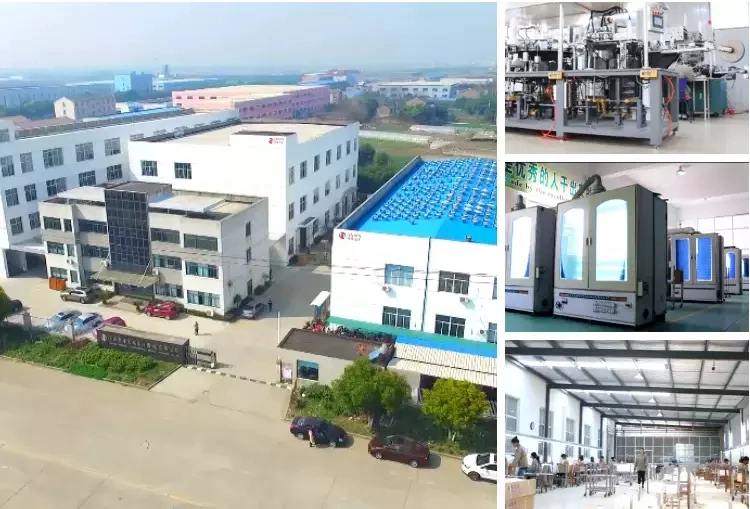 Jiangsu SNXIN is a technological company specializing in researching, production and selling ultraviolet germicidal products. Our leading products are uv lamp for air disinfection and water treatment, air purifier, uv sterilizer etc.
Established in 1994, located at Jiangyin new harbour city, covering an area of 60000 square meters. Our company has equipped advanced apparatus for production and checking and modern scale production resource, with high accuracy ability to product kinds of products, has developed to be one of the largest production bases of ultraviolet disinfection in China.
"High quality is from technology", excepting establishing a serials of system to control quality, our company has got the ISO international quality system and CE certification, and been rewarded as an enterprises with good reputation, winning the title of "Superior-quality Product". By superior quality and service, our germicidal device of SNXIN has been a popular brand in China. Our production sales volume holds a safe lead and export to USA, South Korea, Japan and South-East Asia.