Product Name

Sterilizer Lamp UVC Light Sterilizer UV Sanitizer

UV-C light

12pcs with real uv disinfection function

UV-C Wavelenght

260-280 nm

Lifespan of UVC Beads

10,000 service hours

Sterilization time

3 minutes, 360 degree disinfection

Sterilization rate

99.9%

Materials

PU leather + Aluminum foil+ electronics+ Zipper

Color

Pink, blue, grey, customized

Power supply interface

USB (Micro)

Rated Input

5V/2A

Working temperature

0-40ºC

Storage temperature

-20-55ºC

Product size

24.5*20*16cm (9.65"*7.87"*6.3")

Weight

950g

Warranty

1 year

Packing list

UVC Sterilizing Bag *1
Stainless steel holder *1
User manual*1
USB cable*1

Packing information

12 pieces/carton,
Carton size: 54.5*45.5*58.5cm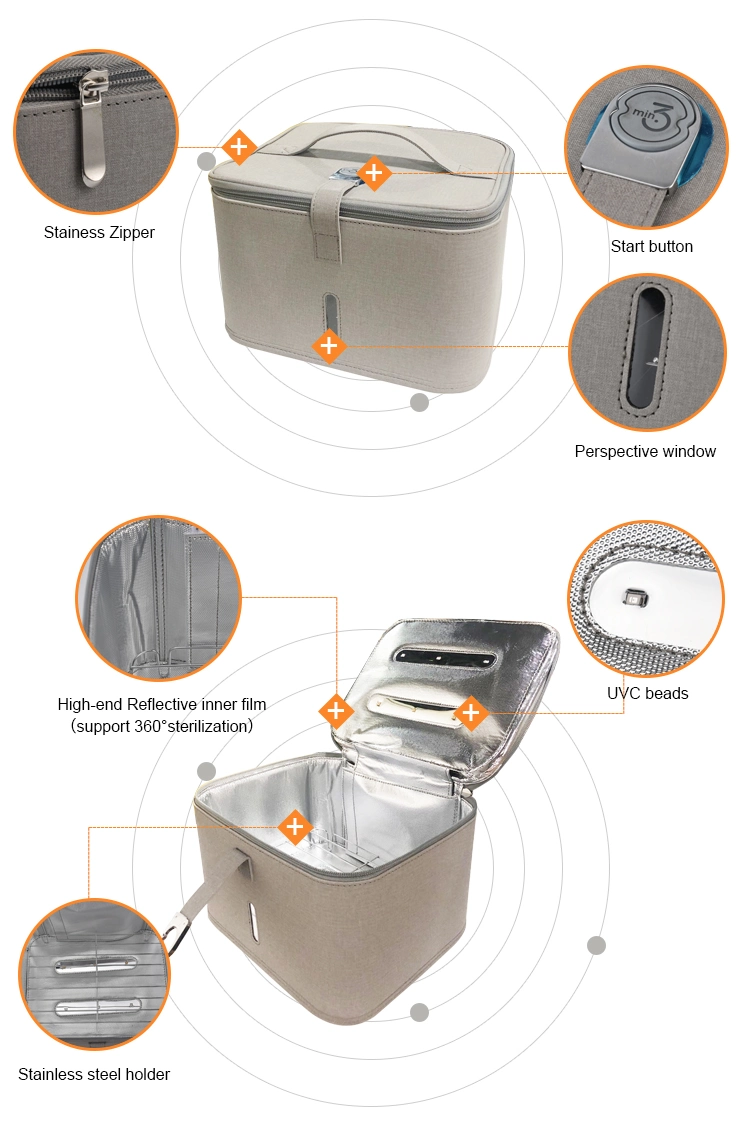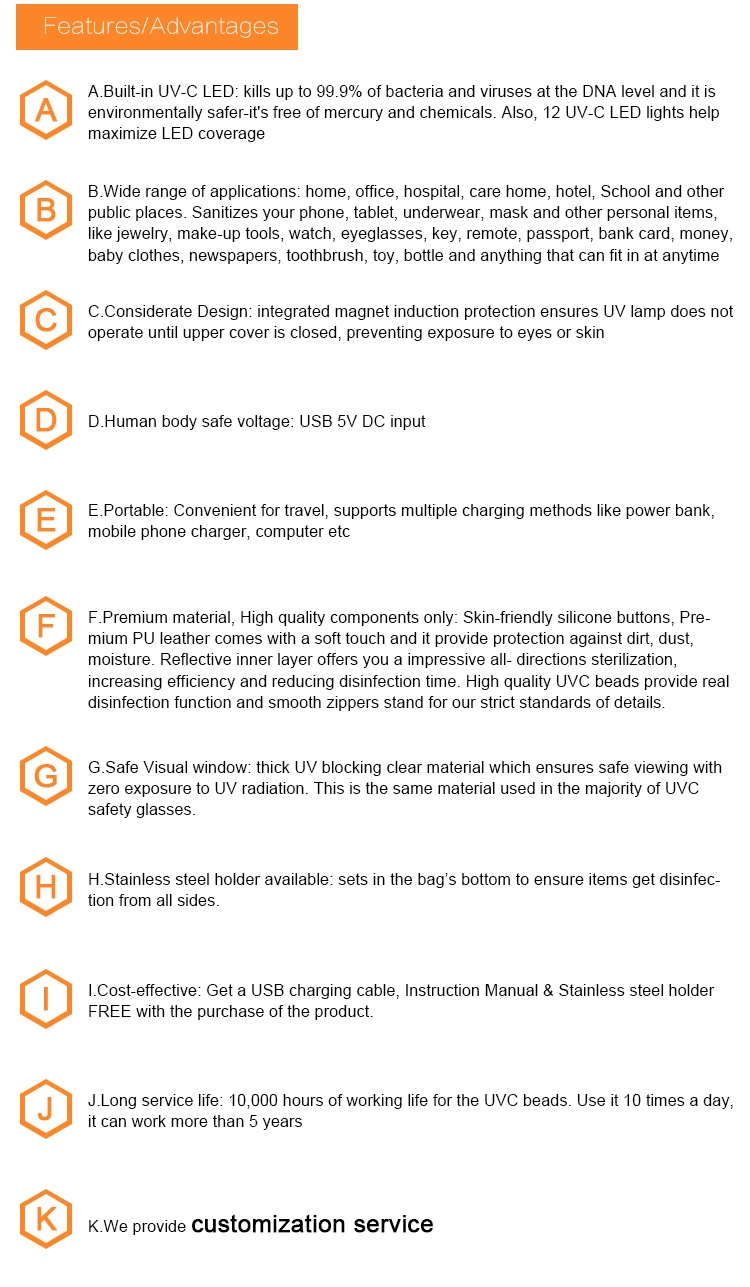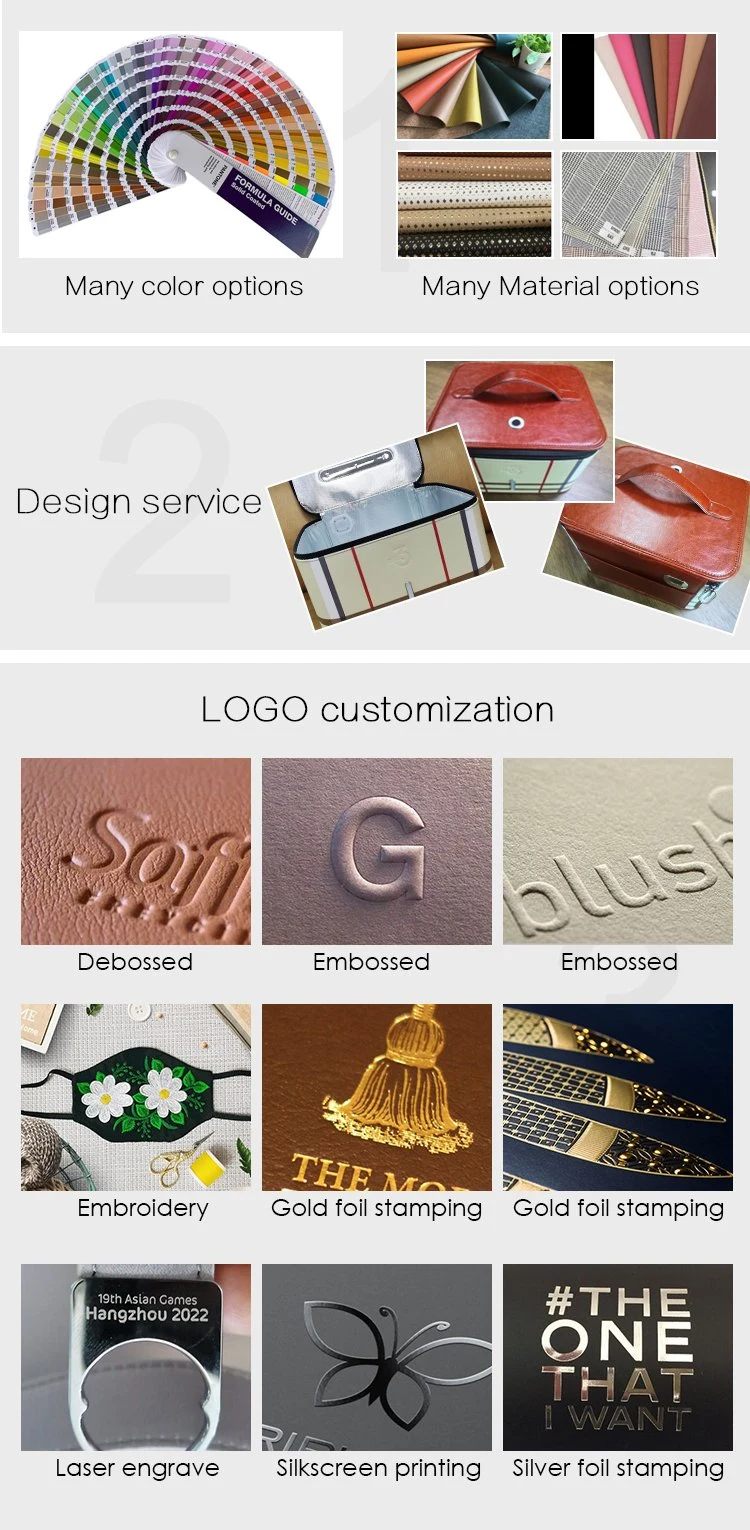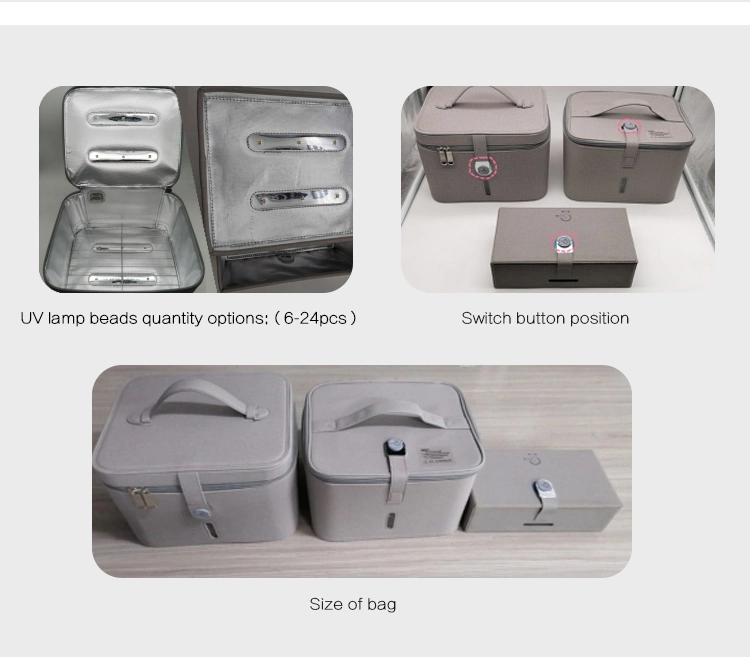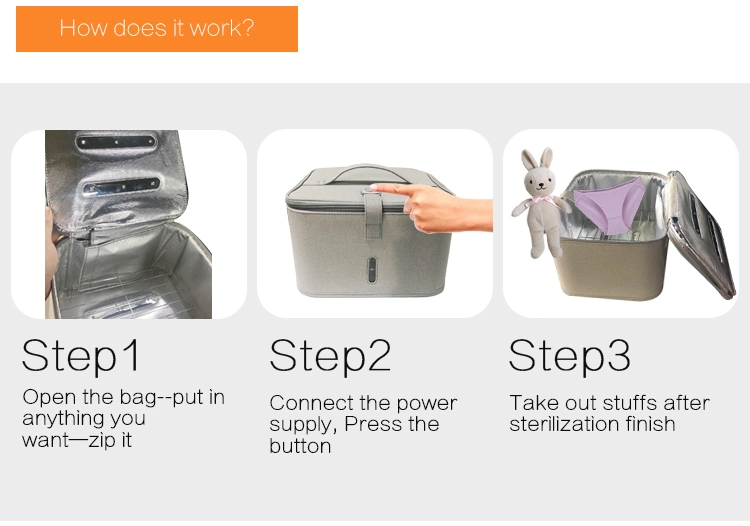 WHY US?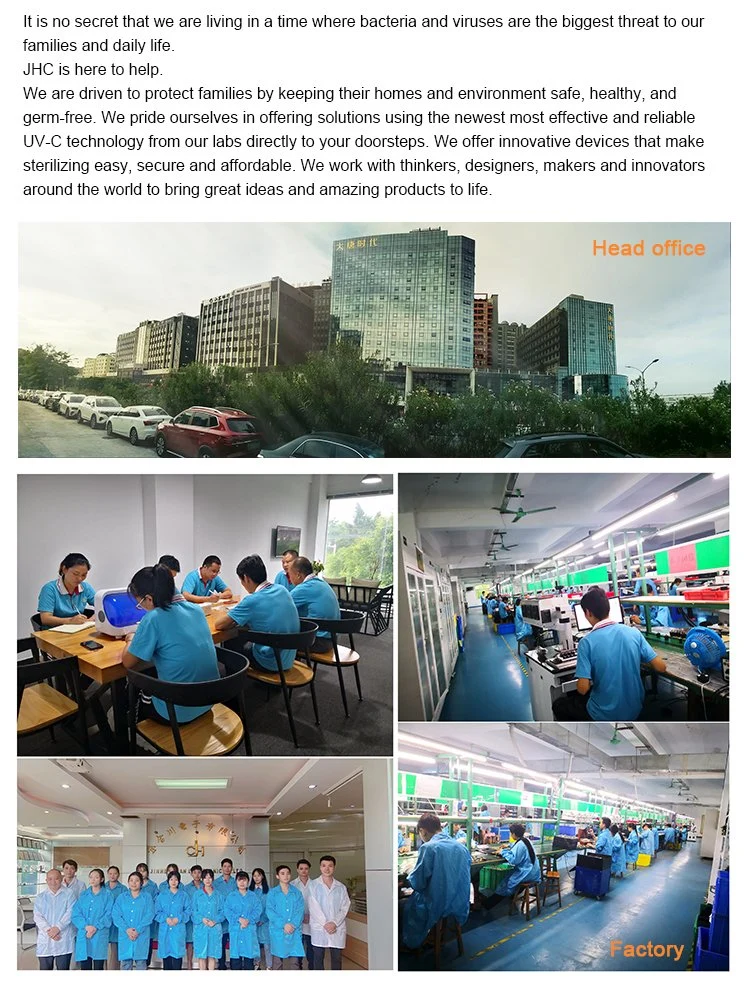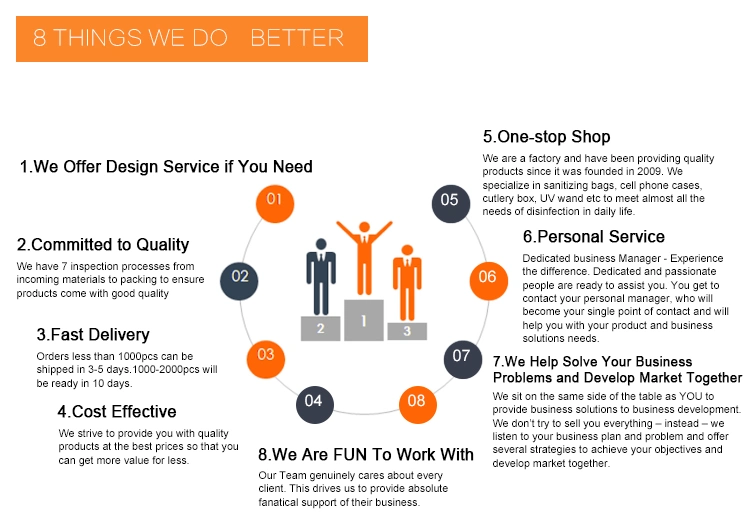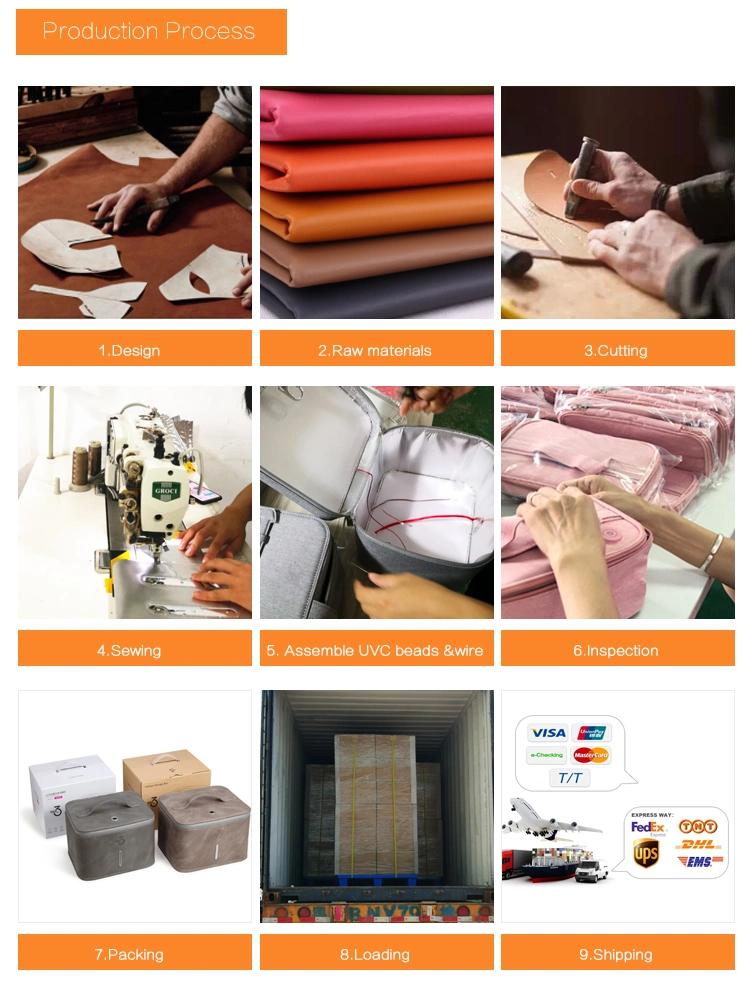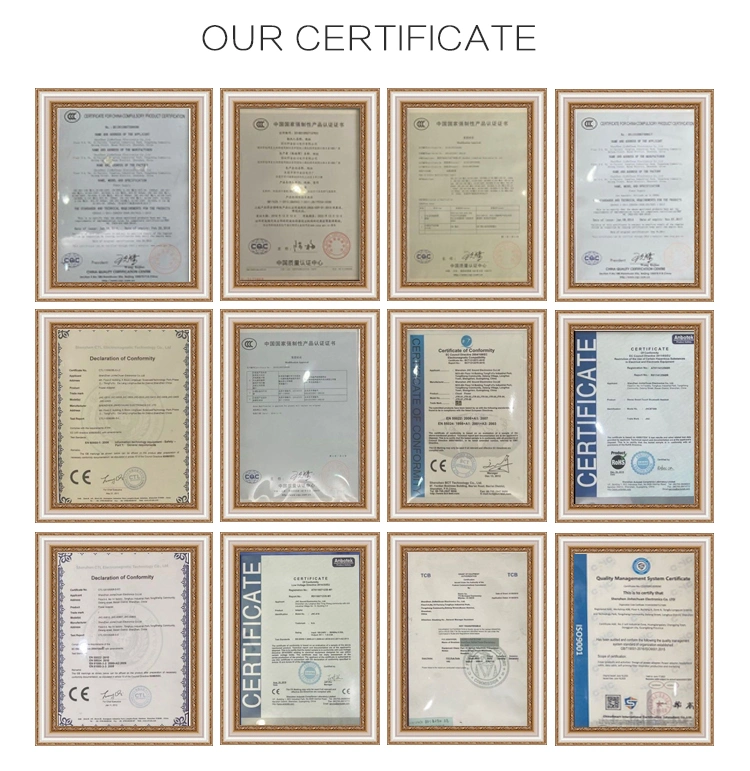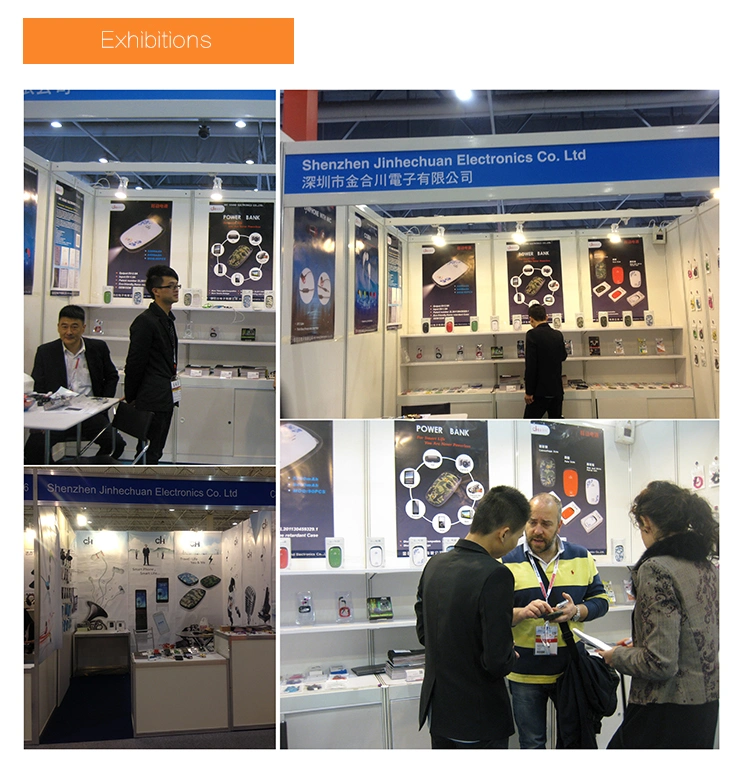 FAQ
Q 1.Why this UV sterilizer bag disinfection?
A: The UV LED lamp beads used in the disinfection kit are the same as the UV lamps in hospitals and disinfection cupboards, and they all use ultraviolet rays to kill viruses.
Q 2.What kind of bacteria and viruses can LED ultraviolet ray skill?
A: Bacterial propagules, spores, mycobacteria, fungi, rickettsiae and chlamydia,etc., all surfaces, water and air contaminated by these viruses can be disinfected by ultraviolet light.
Q 3.Why so fast sterilization?
A: The ultraviolet energy is strong, the power is large and concentrated, and the disinfection space is small, so the disinfection time is only 3 minutes!
Q 4.Does ultraviolet light harmful to the human body?
A: The disinfection kit is a closed antivirus, and the ultraviolet light will automatically turnoff when it is turned on to avoid
hurting people's eyes and skin.
Q 5.Is there a drying function?
A: This product is only used forster lization and disinfection of dry items.Please dry or wipe the items before disinfection.
Q 6.Are you a manufacturer or a trading company?when was your company established?
A: Yes, we are directly manufacturer, our factory was established in 2009.
Q 7.What is the annual turnover for your company?
A: In the passed years, it was around USD18 milion-20 milion, it is stil in the growing.
Q 8.What is the number of employees at your company?
A: Our factory is about 380-400 skilled workers, 10 professional QC for quality checking during each process and 10 professional intl sales with 3-8 years experience in intl trade department.
Q 9.What is the percentage of your products distribution for local, and export?
A: At present, 90% for export,10% for local.
Q 10.Which are the main countries you export to?
A: Germany,Switzerland,Austria,Italy,France,UK,USA,Saudi Arabia,Chile,Mexico,Peru,Brazil,Korea,Japan,Thailand and so on.
CONTACT US
Michelle Zhang
Address: Dtone Building, Qinglong Road, Longhua District,Shenzhen, 518109, China