FDA Silicone Baby Bottle Straw Replacement for Kids Drinking Cup
Silicone straw is made of food grade liquid silicone rubber. Transform your child's bottle into a convenient sippy cup with the Silicone Straw. Made of 100% food grade certified silicone, this practical straw is compatible with all bottles by simply replacing the nipple. Save time, energy and money with our lid system designed to evolve with your baby's needs.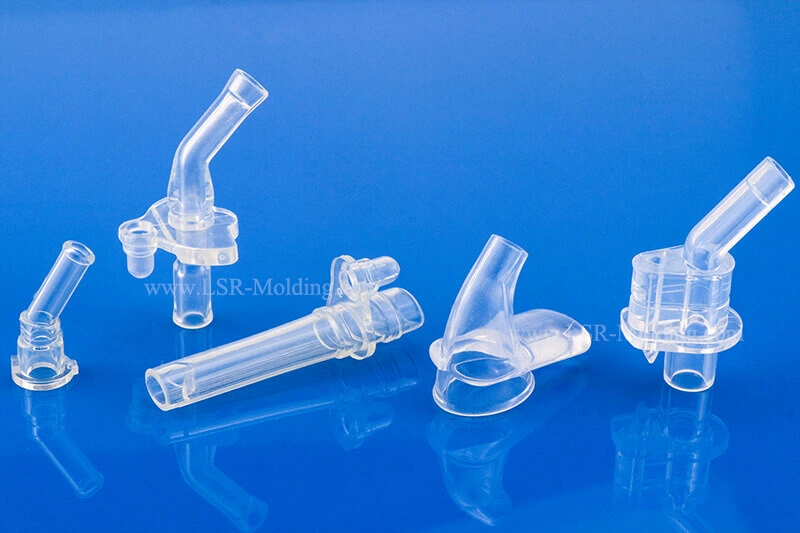 Silicone Straws' Features:
Made of 100% FOOD GRADE SILICONE

Ideal for babies 6 months and up.

Compatible with all Perry Mackin Silicone Baby Bottles.

Free of BPA, PVC and phthalates.

Dish washer, boiling, and microwave safe

Bottle sold separately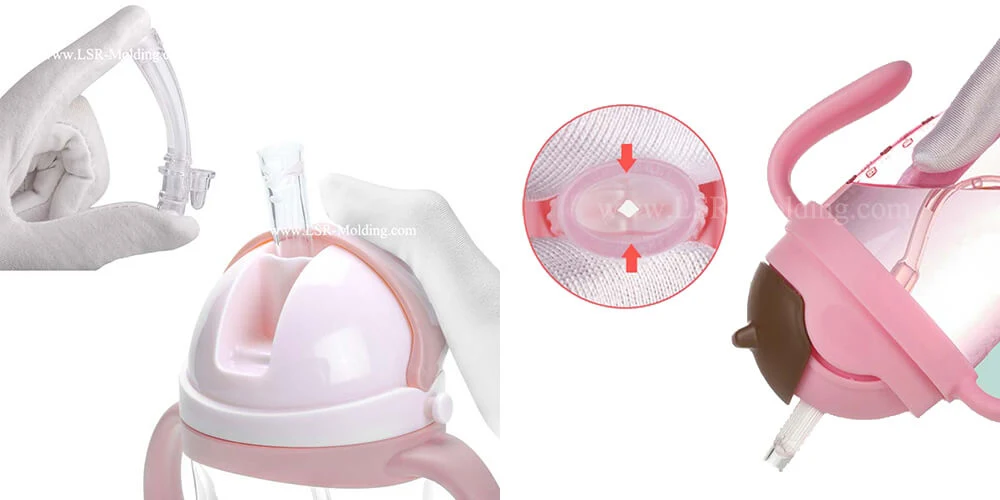 Mold production
When an order is placed, Proto Labs will then design an LSR molding tool. Due to the flexible nature of LSR, parts are manually removed from the mold, and thus, ejector pins are not built into the mold design. Like a standard Protomold aluminum tool, an LSR molding tool is fabricated using a combination of CNC milling and CNC electrical-discharge machining (EDM) to create a high-temperature aluminum tool built to withstand the LSR molding process. After milling, the tool is polished by hand to customer specifications, which allows six standard surface finish options: PM-F0, PM-F1, SP-C1, PM-T1, PM-T2 or SPI-A2. Others may be available by request.
Part production
The finished tool is loaded into an advanced LSR-specific injection-molding press that is precision geared for accurate control of shot size to produce the most consistent liquid silicone rubber parts. LSR molding shares many similarities with conventional injection molding, but there are a few notable differences. Unlike thermoplastic resin, which is melted before injection, LSR is a two-part thermoset compound that is chilled before being injected into a heated mold and ultimately cured into a final part. Note that Protomold uses an automated meter mixing pump to assure the exact combination of the two-part compound; nothing is hand mixed. Since LSR is a thermosetting polymer, its molded state is permanent - once it is set, it can't be melted again like a thermoplastic.
Liquid silicone rubber is a free-flowing, shear thinning thermoset material that injects easily into a mold and is less prone to many defects like sink as compared to typical thermoplastic materials. However, LSR flashes extremely easily and into gaps as small as 0.0002 in. When designing a part for LSR, you should keep in mind best practices for tooling of standard plastic molds. Though the materials are different, the molds are constructed in a similar fashion.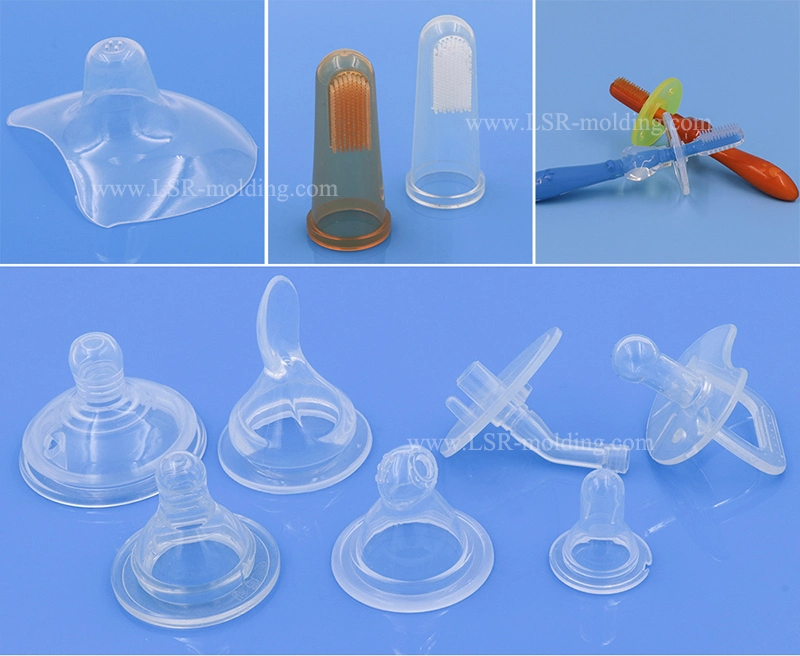 Product Scope:
1) Liquid silicone medical part, as like the capsule, laryngeal mask capsule, oxygen mask, protective mast, catheter, balloon, medical belt etc.
2) Liquid silicone auto parts, silicone valve, O-ring, sealing part.
3) Liquid silicone electronics and industrial product, such as the watchband, mobile phone case.
4) LSR products, which can be with the insert, as like the plastic part, steel part etc. As sample: silicone diving mask, electric silicone drum Stick, silicone handle, silicone vibrators etc.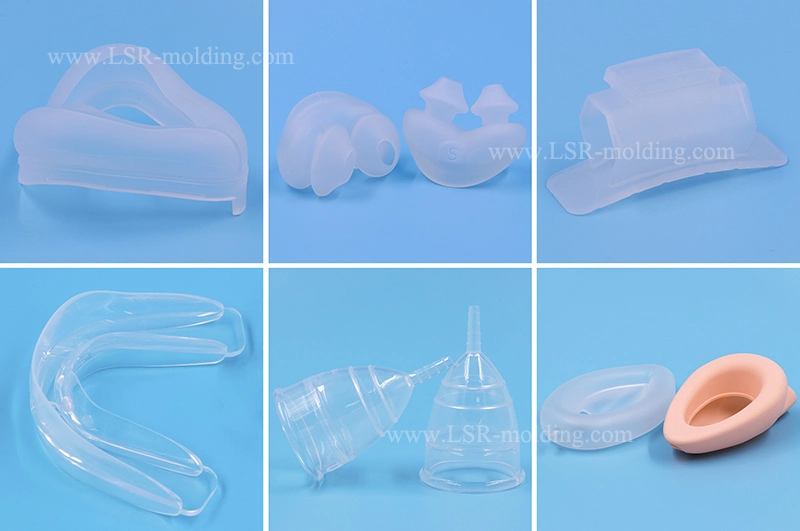 How to distinguish liquid silicone rubber and solid silicone rubber :
Silicone rubber can be divided into two types according to the form of existence, liquid silicone rubber and solid silicone rubber.
Because of different forms of existence, they have distinct physical performances, which also results in significant differences in application. This article will discuss the differences between the liquid silicone rubber and solid silicone rubber.
1.Vulcanized silicone rubber products and mixed silicone rubber are solid.
1)The solid silicone rubber we mention here is mixed silicone rubber, which is also known as high-temperature silicone rubber.
2)This kind of silicone rubber can only be completely vulcanized in high temperature no matter which kinds of vulcanizing agent is used in order to get the ideal physical performance.
3)Solid silicone rubber can be made into all kinds of silicone products after vulcanization, which generally have good physical properties. Solid
4)Silicone rubber can reach food grade standard by FDA approval after two-times vulcanization process.
5)Thus, solid silicone rubber can be applied in both industry and foodstuff.
2.LSR has more variety, and it is liquid because it is made of original organic silicone material.
1)Owing to the sulfur of movement, LSR is easier to form, so it can be easily made into mould used to copy product, which is what solid silicone rubber unable to meet.
2)Moreover, it can also be made into adhesive being adhered to a variety of materials.
3)The majority of LSR can be vulcanized at room temperature.
4)LSR can be divided into condensed type and addition type according to the reaction types.
The former generally can not reach the food grade standard while the latter can do.
Therefore, addition type LSR is used in all walks of life because of its very good physical properties.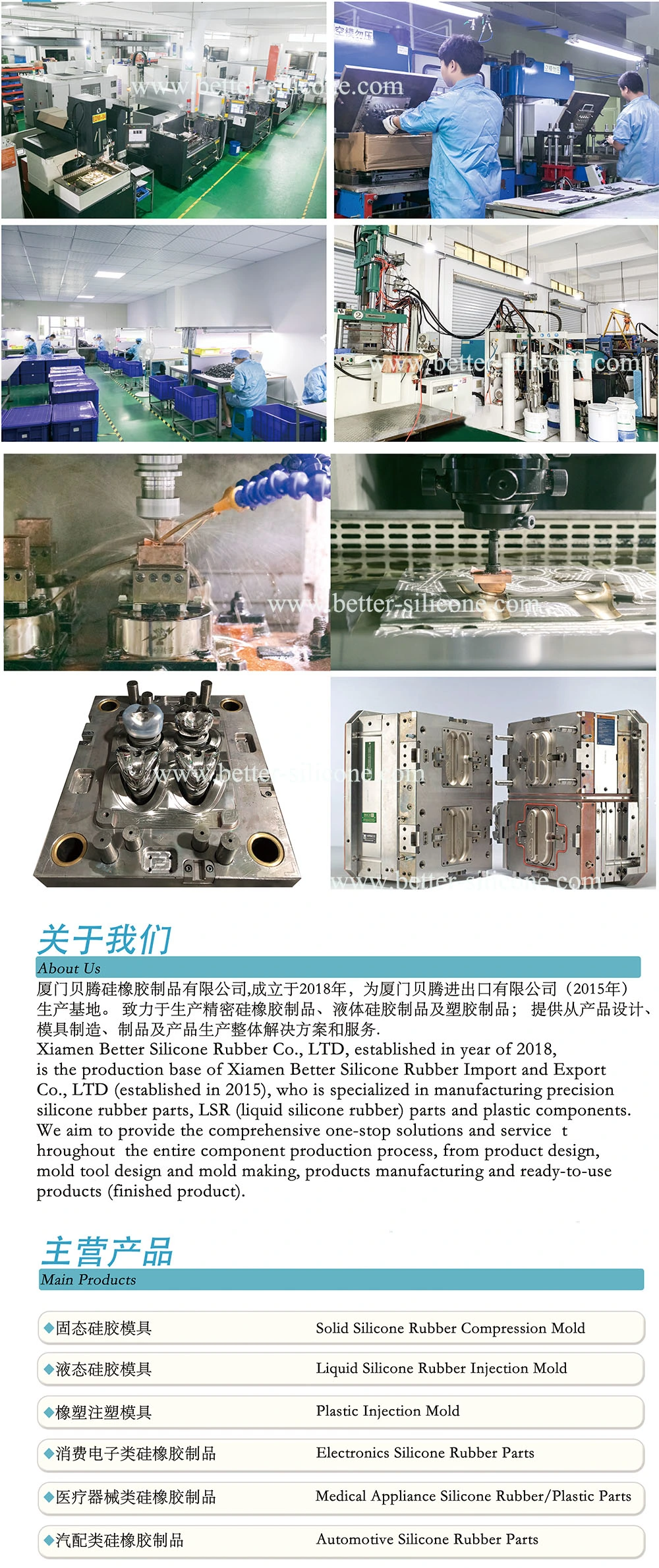 Our Advantages
1.
Precision Mold-Making Technology (Since 1998)
2.
Competitive Price: Origin Manufacturer.
3.
Five experienced designers: offer technology/production/design/artwork support etc.
4.
Production and Test strictly according to ISO9001.
5.
Complete Production Plant, Equipment, Environment
Our Equipment:
1.
Five Plants: Mold-Making, Silicone Rubber Compressive, Plastic Injection, LSR
Injection, and Assembly Plants.
2.
MoldMaking Equipment: CNC, Mirror EDM, EDM, Slowspeed Wire Cut M/C and other auxiliary equipment etc.
3.
Production Equipment: 15 Sets Rubber Compressive Machines, 8 Sets Haitian Plastic Injection Machines, 2 Sets LSR Injection Machines.
4.
Test Equipment: 3D Projectors, Sealing Testor, Elasticity Measurement, Durometer etc.
5.
Dustfree Environment: LSR injection Machines, 3 Sets Rubber Compressive Machines, and Assembly Line in 100,000 rating Dust-free Plants.
6. Fast-reaction